CCleaner v5.33 virus is the corrupted utility version that brings Floxif malware to 2.27 million users via a hacked executable file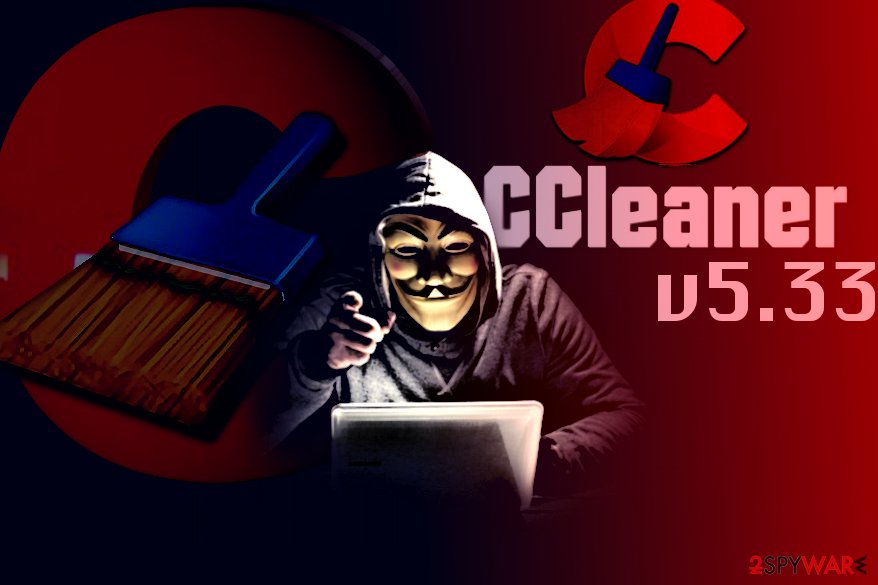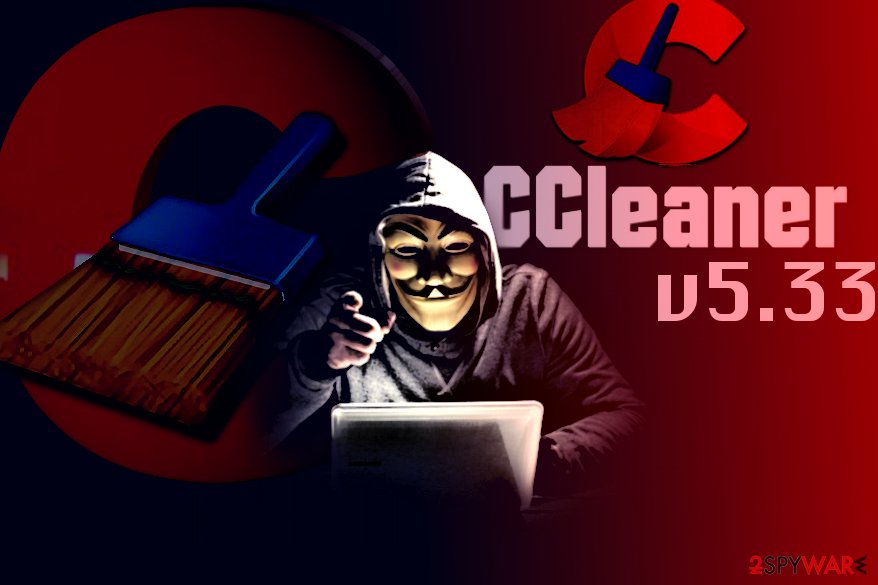 CCleaner virus defines a corrupted v5.3 version of a well-known anti-malware tool CCleaner. By using the Advanced Persistent Threat (APT) type of attack[1], the perpetrators have managed to violate the distribution network and deliver malware in the disguise of a certified CCleaner 5.33 version.
The malware, which gained the name of Floxif Trojan[2], managed to deceive over 2 million users that they had downloaded a validated CCleaner version 5.33 and CCleaner Cloud 1.07.3191. The attack began on August 15 and lasted up to September 12, 2017, when security experts have managed to detect the felony.
The malware gets executed if the user was using the admin account, so low-privileged account users who have installed the CCleaner 5.33 file were not affected. This malware affected main accounts and administrative accounts of devices that got this malicious version of the tool.
Updating to 3.34 version can remove the corrupted file and the tool. But for those who want to be totally safe additional actions should be helpful. The infected computer should not be used until the machine is cleaned from malware, resetting passwords is highly advised to stop Floxif infection and attackers from running deeper into the system and stealing passwords or other sensitive details.
Name
CCleaner 5.33 virus
Type
Malware. the Floxif virus gets delivered via the corrupted version of a cleaner utility
Functions
The virus can collect data from the machine and download or execute other malware directly in the background since it gains admin rights
Damage
The threat can use stolen data to identify each unique device and attackers may target particular people with secondary payload drops. Having administrative rights on the computer means that hackers can easily download and launch scripts or programs directly on the system
Distribution
Downloading the CCleaner version that was corrupted between August and September in 2017. Trojans can also use other methods of spreading like malicious files and other executables download via torrent services and fake program providers
Removal
To remove CCleaner 5.33 virus, you need to get rid of the executable file itself. Updating to other versions may help, but malware should be eliminated using AV tools and security programs
Additional tips
Even though updating to clean versions of the program can help with eliminating the trojan, other programs may be left behind or alterations that malware makes still trigger issues with your machine, so rely on

Reimage

Reimage Cleaner

Intego or PC repair tools to check or even fix virus damage
Update September 28th, 2017. Though Avast who now owns the tool originally created by Piriform, has stated that the malware was terminated, it seems that the cyber criminals continued the assault. The first stage of the CC Cleaner virus attack sparked assumptions that the endpoint target was ordinary users. Floxif trojan which behaves as a backdoor virus was programmed to collect information about victims' and send the data to a remote server.
Due to the overload of the server, the database had crashed. It led malware developers to rebuild the database and initiate a second stage of the attack. It then revealed that ordinary users were only an intermediary chain to target major companies: Microsoft, Sony, Samsung, Cisco, VMware, D-Link, Linksys, HTC.
A recent analysis revealed over 700 000 devices were infected and approximately 20 companies have been infected with the malware within the span of 4 days.[3] Telecommunication and social network companies are among the most affected targets. The companies in Japan and Taiwan reported having the utmost number of infected computers – 10 and 13 – respectively.
Main facts about the Piriform malware (Floxif):
Floxif CCleaner Trojan was embedded in the 32-bit version of CCleaner 5.33.6162 and CCleaner Cloud 1.07.3191. The attackers added the malware into the main executable of the software, known as CCleaner.exe.
The malicious version was publicly available to download between August 15, 2017, and September 15, 2017. The company that owns the rights to the software reported that approximately 2.27 million people installed and used the compromised version of the PC optimization software.
The compromised version installed a backdoor to victim's computers that was capable of transmitting certain data to C&C server.
Infected users should immediately update to 5.34 version of the software and take actions to change passwords and other sensitive data that criminals could have accessed.
Two IP addresses – 216.126.225.163 and 216.126.225.148 – are associated with the hackers.
Research suggests that updating might not be enough as criminals have included a previously undiscovered payload. Victims are advised to restore their computer from backups to erase the malware entirely.
The compromised version of CCleaner 5.33 included a malicious payload that contained a Domain Generation Algorithm (DGA) and ability to communicate with Command & Control (C&C) server. The virus used that connection to transmit all kinds of data from victim's computer, including, but not limited to:
Computer's name;
List of installed programs;
List of network adapters;
Unique IDs;
List of active processes.
To protect your computer and complete CCleaner virus removal, you must update from v5.33 to v.34 IMMEDIATELY. The impact of the malware is high, however, considering that the software manages to score up to 2 billion downloads per month, the situation could have been worse.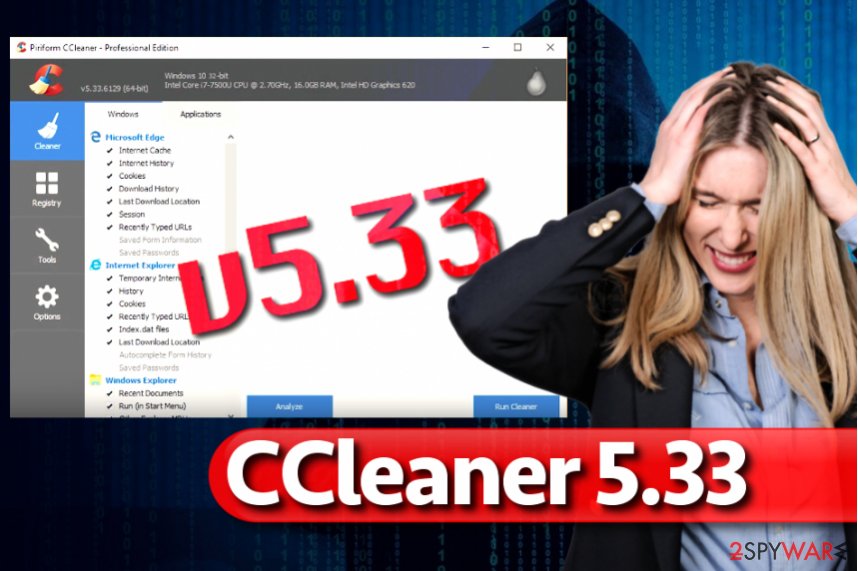 Floxif is the name of the malware found in CCleaner 5.33 version.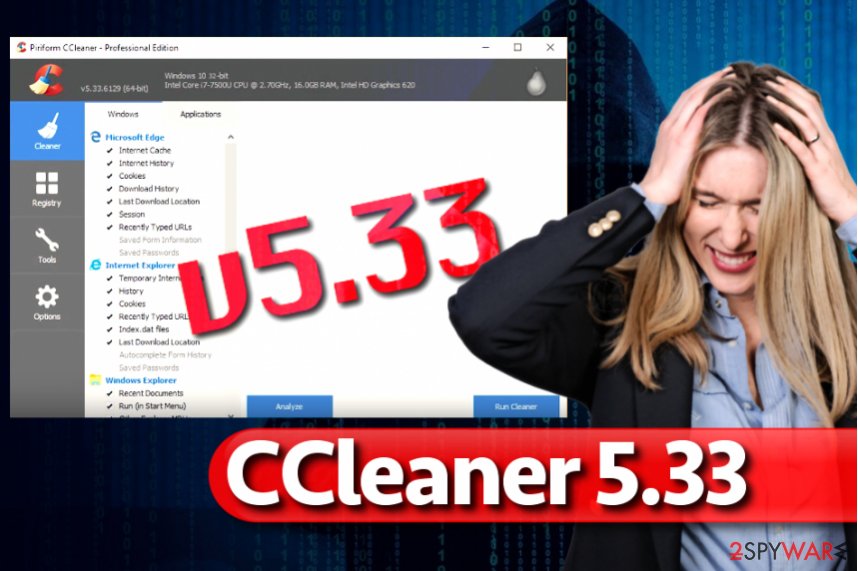 Floxif is the name of the malware found in CCleaner 5.33 version.
Besides, the compromised version could have brought more malware to your computer (as it reportedly could do so), so we strongly recommend scanning your computer with anti-malware software to remove CCleaner Floxif Trojan remains and other dangerous programs at once. You may also need to repair some damage that the virus leftover, so rely on PC repair tools that are reliable like Reimage Reimage Cleaner Intego.
CCleaner malware begins its second payload
Researchers from Talos Intelligence have reported[4] a second CCleaner virus' payload that was aimed at a limited number of high-profile tech companies based on their domains. Criminals tried to compromise one of the largest companies, including:
Akamai, Intel, Microsoft, Google, Samsung, Sony, VMware, HTC, Linksys, D-Link, Cisco.
The second payload starts with an installer called GeeSetup_x86.dll. Once activated, it determines what is the version of the system – 32 or 64-bit and then drops the trojan on it. The one for 32-bit version is called TSMSISrv.dll, and the other one is EFACli64.dll. It appears that malicious actors sought to steal intellectual property from the listed technology firms.
Transmission of the trojan-backdoor
As we specified before, original servers of CCleaner were compromised during the cyber attack, and it means that the malware was available to everyone who downloaded the software from Piriform's website.
The updated version was released on August 15th, 2017, meaning that it was the date when users started to download the compromised version on their computers unknowingly.
Zondervirus.nl warns[5] that the same thing could have happened to anyone who installed an update for the PC optimization software between August 15 and September 15 of 2017.
Is CCleaner safe?
Note that Piriform[6] CCleaner program itself is NOT a virus. It is an entirely legitimate software that you can use, however, malicious actors used illegal methods to break into companies' servers and inject malicious scripts into the signed software.
Right when security experts detected C Cleaner virus, Avast issued an official statement urging users and companies update to 5.34 version. However, there is still a lack of information how the perpetrators have managed to continue the assault.
In order to ensure that your computer is safe from the malware, uninstall the program, scan the system using a security tool, and reinstall CCleaner 5.34 version. Now let us discuss options how to remove CCleaner malware.
Perform CCleaner virus removal
Research suggests that it might not be enough to remove CCleaner virus by updating it to 5.34 version. Since the second payload was discovered, we recommend cleaning your computer fundamentally. Security tools like SpyHunter 5Combo Cleaner or Malwarebytes should help, or you can rely on more powerful AV programs.
Therefore, we recommend you to restore your computer from a backup (created before installation of the malware) and then double-check your PC with PC repair software like Reimage Reimage Cleaner Intego that can find affected files. You can find instructions on how to clean your computer below that include additional tips for rebooting the PC in Safe Mode, for example.
Once you complete CCleaner removal, protect the accounts that you accessed while the malicious version of computer optimization software was running on your PC. We strongly recommend you change your passwords using a device that wasn't compromised – ideally, your phone.
This entry was posted on 2020-05-07 at 03:17 and is filed under Malware, Viruses.