Burst Search is an extremely intrusive browser hijacker that renders Managed by your organization feature to prevent removal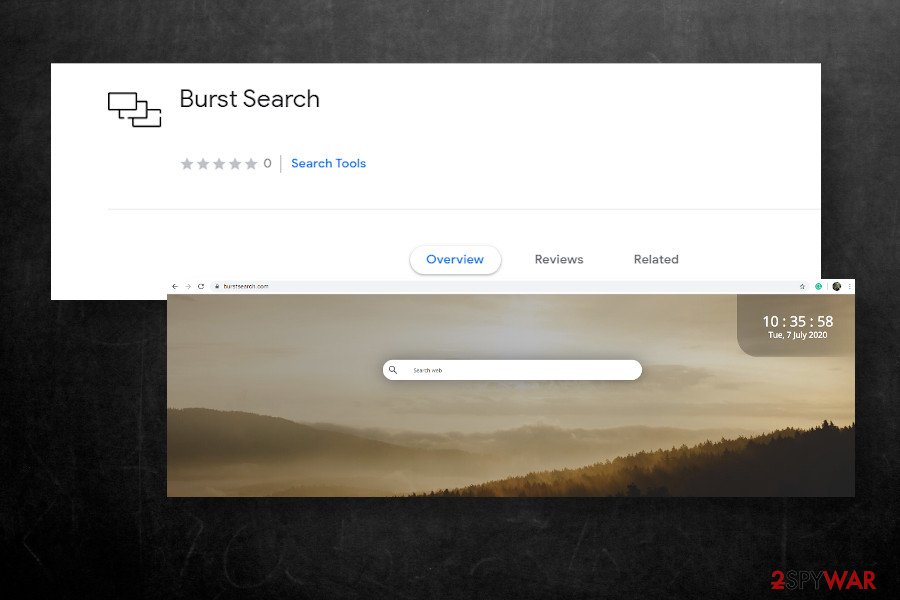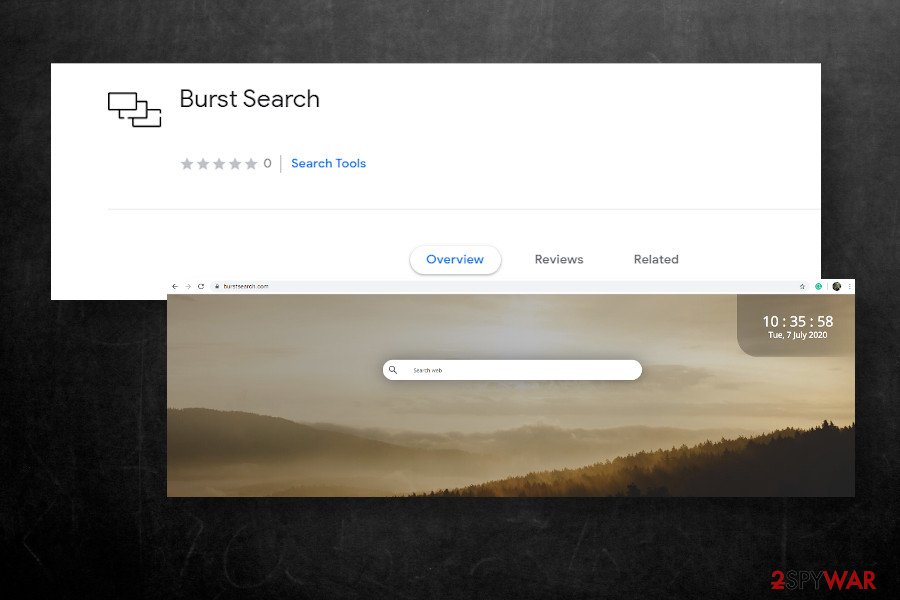 Burst Search is a search tool that is available at the Chrome Web Store[1]. It's promoted a handy tool that is going to provide filtered search results and allow quick access to the local weather forecast. However, we strongly recommend users' comment section before installing it because there are hundreds of reports stating that the Burst Search removal is impossible.
In fact, Burst Search is an aggressive browser hijacker, which sets itself as a start page and search provider on Google Chrome web browser. Although it does not look dangerous, this dubious search is affiliated with various third parties that seek to promote their products and services. However, they are not controlled and can display whatever content they want. That's why the immediate removal of this hijacker is recommended.
The reason why people cannot uninstall Burst Search is related to the Managed by your organization settings. That's a legitimate Chrome policy setting used by company administrators[2] to control web browser's usage by the employees. Unfortunately, some third-party search sites are misusing this setting to create persistence and avoid easy removal. If you are stuck with the browser hijacker and cannot eliminate it because it put you into the organization, we'll try to help you to disable this feature and root out the virus from your web browser.
Name
Burst Search
Classification
Browser hijacker/Potentially Unwanted Program (PUP)
Related site
burstsearch.com is the main page that this hijacker promotes
Distribution
Although the extension can be downloaded from the Chrome Web Store for free, most of its downloads are indirect. Typically, it gets installed bundled with freeware
Symptoms
If the user accidentally installs this extension, he or she immediately notice the following symptoms:
– altered start page, search engine, and new tab URL (Burst Search and burstsearch.com promoted)
– sponsored search results provided
– commercial content injected into random websites
– the web browser randomly redirects to suspicious sites
– "Managed by your organization" notification emerges on the web browser
– the web browser's settings cannot be changed
– web browser runs slower than it used to before
Similar viruses
This hijacker belongs to the group of search sites that misuse Chrome's policy settings to prevent removal. It's similar to Bundlore, OptimumSearch, CapitaSearch, Mazy search, and others.
Removal
The malware can be eliminated with a professional anti-malware tool. However, web browser requires additional maintenance, so it's best to run a scan with an automatic anti-malware and then reset default Chrome's settings (we'll provide a removal guide below)
Fix
Malware like browser hijackers or adware leave a bunch of registry entries and other related files installed. Thus, once you remove the malware, run a scan with

Reimage

Reimage Cleaner

Intego to fix system issues that it might have caused
Browser hijackers are usually underestimated and not considered to be major security threats. However, when people install apps like Burst Search extension, it creates persistence by enabling Managed by your organization setting and prevents people from removing it both manually and automatically.
As a consequence, users are not allowed to use another search except for Burst Search. Although from initial inspection it looks like a random search, it's basically used for advertising purposes. It's search results are pre-defined, so you will be provided with a list of links and ads redirecting to affiliate sites. Please note that third-party content is not controlled by the service provider, so visiting them is at your own risk.
In addition to potentially dangerous content, the Burst Search hijacker infringes on users' privacy. The extension forcefully lands on Chrome web browser and injects tracking cookies that are aimed at collecting the following information:
search queries
URLs of visited websites
IP address
geolocation
technical details of the browser, etc.
However, the Burst Search virus can also gather some pieces of personal information, including name, email address, home address, telephone number, etc. if the user provides such information while using the service. The mentioned personal information can also be harvested when being redirected on a phishing or scam sites that contain false claims about supposed prize giveaways.
Having this in mind, the most important thing is to remove Burst Search virus from your web browser. Otherwise, it may cause real havoc during your web browsing sessions. The unstoppable flow of ads and ongoing redirects to third-party sites prevent you from web browsing normally and poses a high risk of getting infected with malware.
Typically, people browser hijackers can be eliminated both manually and automatically. However, the Burst Search removal is a difficult process, which is bet to perform with the help of a professional anti-malware tool. Besides, it's advisable to restore your machine to the state prior to the infection using Reimage Reimage Cleaner Intego optimizer.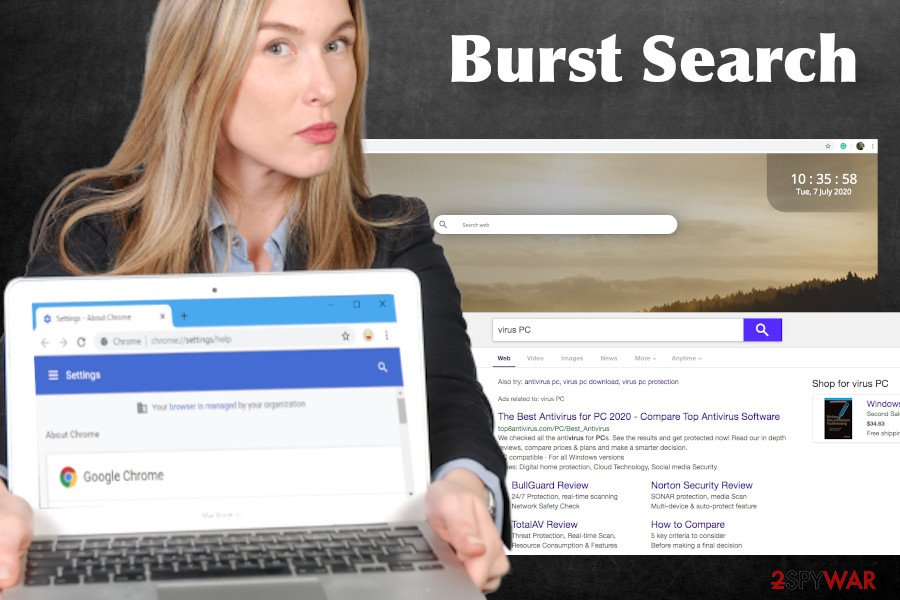 Burst Search distort Chrome's settings to display sponsored content and earn the money from affiliate marketing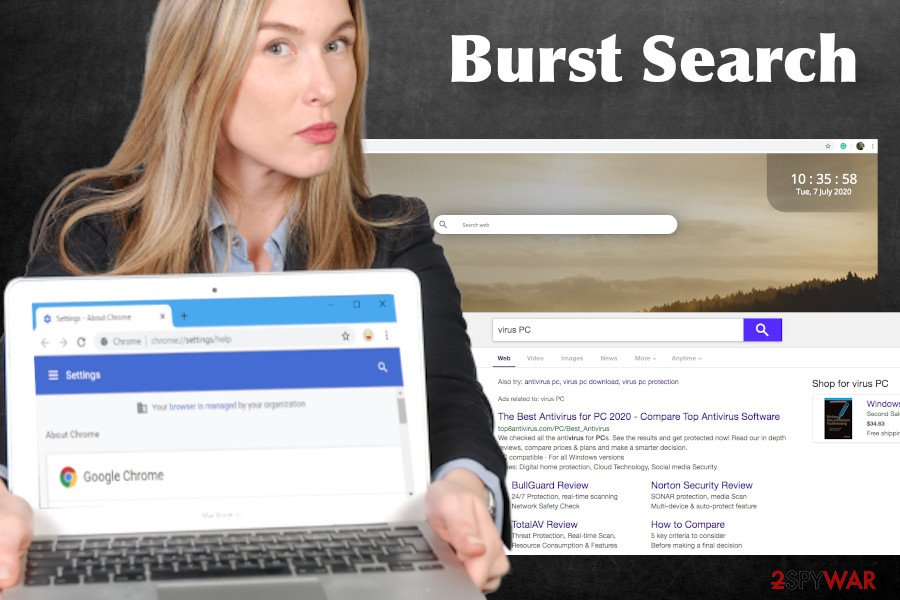 Burst Search distort Chrome's settings to display sponsored content and earn the money from affiliate marketing
Do not ignore the presence of search-burst.exe process
The Burst Search pretends to be a non-malicious search site. However, people should be extremely cautious about it because it may settle down on Chrome and cause many difficulties in terms of removal.
Before this hijacker manifests its presence, it may start running a potentially dangerous process within the Task Manager. This process is usually indicated as burst-search.exe. It may use loads of CPU and slow down the web browser's performance significantly.
Its main purpose – to inject the extension into Chrome and ensure its unrestricted performance. A professional antivirus program can recognize the malware as potentially dangerous and generate a pop-up warning saying that the virus-burst.exe has been detected. In this case, set the AV tool to remove Burst Search virus immediately.
Managed by your organization feature must be disabled before Burst Search uninstall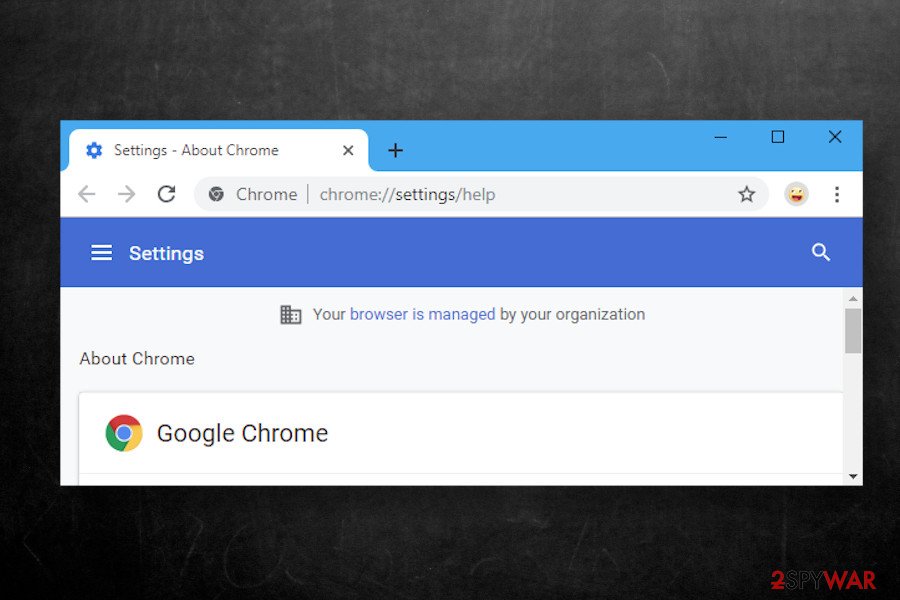 Managed by your organization is Chrome's feature that browser hijackers often misuse to prevent easy removal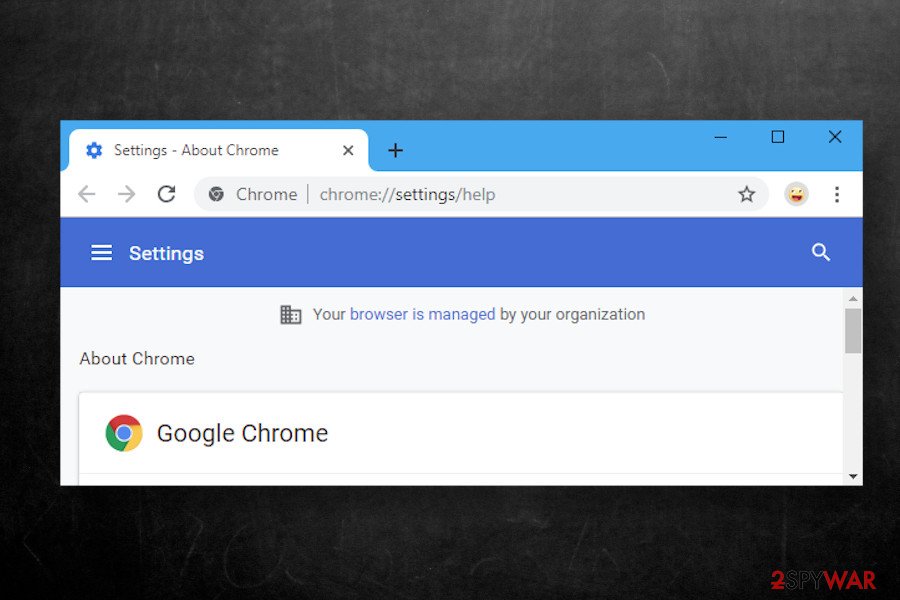 Managed by your organization is Chrome's feature that browser hijackers often misuse to prevent easy removal
The reviews section on Chrome Web Store below the Burst Search downloads many users' reviews[3] where they share an extremely negative experience when dealing with this search. Most of them claim:
THIS IS A VIRUS EXTENSION. IT PUT IN ME IN AN ORG' THAT IM NOT AWARE OF. PLEASE TAKE DOWN THIS EXTENSION LIKE MANY OTHER PEOPLE ARE ASKING!!!
This thing is most likely a trojan, you cannot uninstall it with the exception of a factory wipe.
You cannot uninstall this program. You cannot remove it through chrome. If you try to uninstall the extension manually or uninstall chrome completely, it just re-installs itself.
The reason why Burst Search removal cannot be performed normally is the enabled "Managed by tour organization" feature. That's the policy released with the Chrome 73 version, which helps enterprise admins to set specific web browser's settings and take control over browsing activities. If you see this notification on Chrome, but you do not belong to any organization, it means that malware got installed and initiated unwanted browser changes.
Unfortunately, the Burst Search virus removal from Chrome won't be possible as long as the mentioned feature won't be disabled. One of the options would be to remove the virus using an anti-malware tool and then factory reset Chrome. However, if you don't want to lose all settings, you can try to eliminate the content from Chrome's folder as explained below:
Press Windows key + R, type regedit, and press Enter to open Registry Editor.
Navigate to the following locations one-by-one:


\HKEY_LOCAL_MACHINE\SOFTWARE\Google
\HKEY_LOCAL_MACHINE\SOFTWARE\Google\Chrome
\HKEY_LOCAL_MACHINE\SOFTWARE\Policies\Chromium
\HKEY_LOCAL_MACHINE\SOFTWARE\Policies\Google\Chrome

Delete all entries that are marked with a number 1.
Look for the file called ExtensionInstallForceList folder under the \HKEY_LOCAL_MACHINE\SOFTWARE\Policies\Google\Chrome directory. Delete all files labeled with a number1.
The try to remove Burst Search extension from Chrome or reset its settings.
Scan the machine with a repair tool

Reimage

Reimage Cleaner

Intego.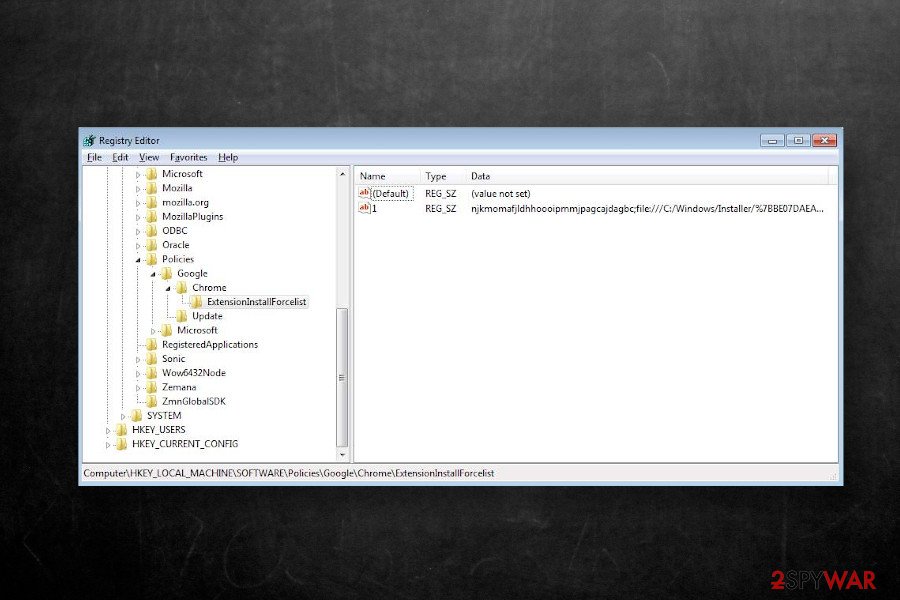 Burst Search removal will be possible only when the Managed by your organization feature will be disabled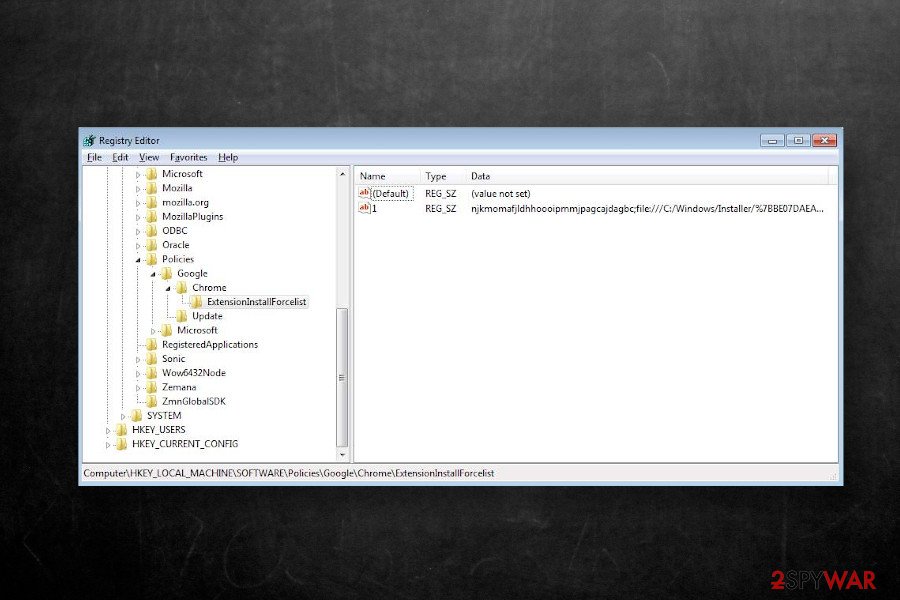 Burst Search removal will be possible only when the Managed by your organization feature will be disabled
Browser hijackers can get installed via freeware installation setup
Even though third-party extensions (most of them) can be found on Chrome Web Store, Google Play Store, and other legitimate sources, their primary download source is still freeware bundles. To increase users' rate, developers append extensions, and other PUPs to freeware installation setup and spread them as pre-selected items.
Therefore, it's very important to monitor the installation of free applications. Do not rush the download by clicking the Next button repeatedly because you will inadvertently agree with the installation of the entire bundle. Instead, opt for the Advanced installation technique and monitor the process carefully.
Look for the checkboxes that contain grayed out checkmarks or pre-selected items. Remove the ticks to reject the installation before clicking the Next button. Besides, make sure to keep your anti-virus tool activated during the freeware install as it may recognize and quarantine suspicious entries.
Automatic and manual Burst Search removal options
Burst Search malware is not an extension that should be given a chance. It's an intrusive browser hijacker that can cause real havoc during your web searches. Besides, it poses the risk of being exposed to potentially dangerous sites via burstsearch.com servers.

Burst Search can be downloaded from Chrome, though negative users' reviews should restrain your from doing that

Burst Search can be downloaded from Chrome, though negative users' reviews should restrain your from doing that
To stop intrusive Burst Search redirects, you will have to disable the Managed by your organization feature in the first place. We explained how to do that above. After that, we recommend scanning the machine with a robust anti-malware tool to make sure that all unwanted programs have successfully been eliminated.
Alternatively, you can get rid of the Burst Search virus manually. For that, you should disable the mentioned Chrome's feature, delete malware from the Apps folder, and then eliminate the unwanted extensions from Chrome. If you haven't done that before, you can use a guide that is given down below.
Tip: experts from NoVirus.uk[4] recommend to recover your machine's performance. Overfilled registries and other system folders can eventually cause slowdowns, so we recommend using Reimage Reimage Cleaner Intego regularly.
You may remove virus damage with a help of Reimage Reimage Cleaner Intego. SpyHunter 5Combo Cleaner and Malwarebytes are recommended to detect potentially unwanted programs and viruses with all their files and registry entries that are related to them.
When you work on the domain, site, blog, or different project that requires constant management, content creation, or coding, you may need to connect to the server and content management service more often. It is a hassle when your website is protected from suspicious connections and unauthorized IP addresses.
The best solution for creating a tighter network could be a dedicated/fixed IP address. If you make your IP address static and set to your device, you can connect to the CMS from any location and do not create any additional issues for server or network manager that need to monitor connections and activities. This is how you bypass some of the authentications factors and can remotely use your banking accounts without triggering suspicious with each login.
VPN software providers like Private Internet Access can help you with such settings and offer the option to control the online reputation and manage projects easily from any part of the world. It is better to clock the access to your website from different IP addresses. So you can keep the project safe and secure when you have the dedicated IP address VPN and protected access to the content management system.
While much of the data can be accidentally deleted due to various circumstances, malware is also one of the main culprits that can cause loss of pictures, documents, videos, and other important files. Potentially unwanted programs may clear files that keep the application from running smoothly.
More serious malware infections lead to significant data loss when your documents, system files, or images get locked. Ransomware is the one that is focused on such functions, so your device gets useless without access to needed data. Even though there is little to no possibility to recover after file-locking threats, some applications have features for such recovery in the system.
In some cases, Data Recovery Pro can also help to recover at least some portion of your data after data-locking virus infection or general cyber infection.