Botnet Blacklist is the detection result brought by Avast AV engine when users attempt to connect to torrent sites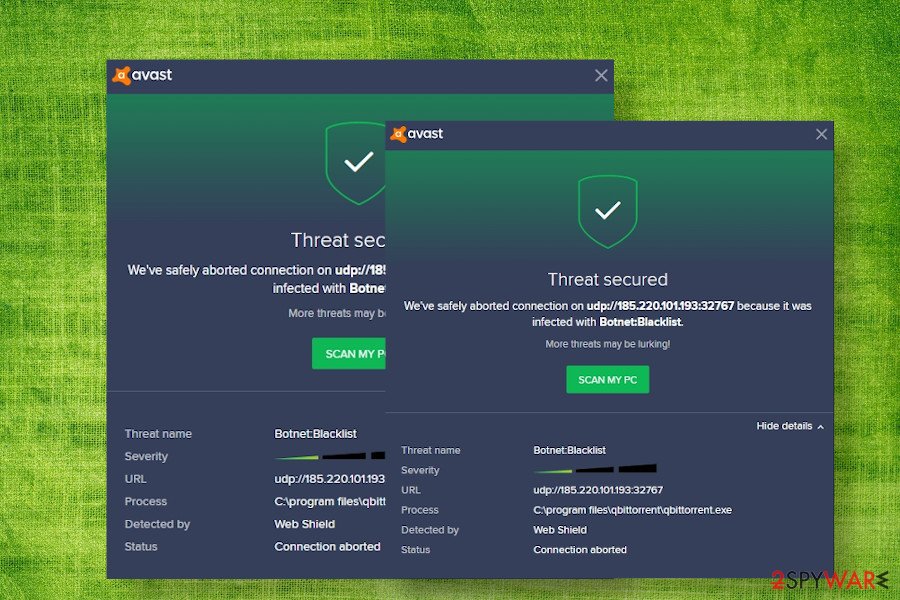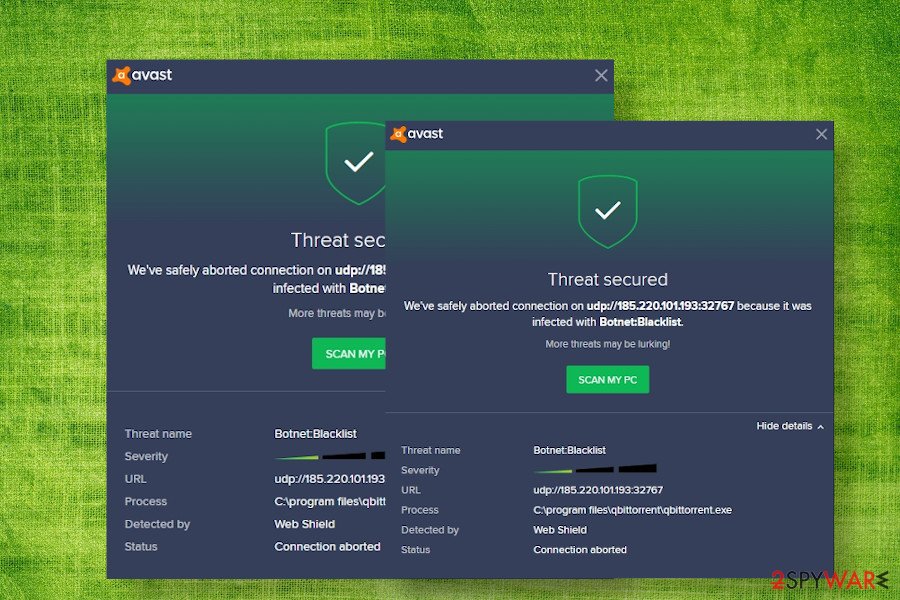 Botnet Blacklist, a.k.a. re:botnet:blacklist or botnet:blacklist, is a malware detection name delivered by Avast anti-virus solution. At the moment it's not yet clear whether the detection is genuine and relates to a malicious file used to hijack PC and connect it to a botnet, so users should be cautious and take precautionary measures to protect their machines.
However, people have started reporting the Botnet Blacklist Avast virus on July 1st on Reddit[1] forum indicating that the AV engine detected malicious behavior when trying to connect uTorrent, BitTorrent, QBittorent, and other torrent sites. Based on people's reports, they have been using these torrent sites for years and no problems have been registered up till now. Note that Avast (like most reputable AV tools) release software updates twice a week. Therefore, the botnet:blacklist detection may be a false positive due to the recent changes in virus definitions or Behavior Shield, Web Shield, or Network Shield[2] improvements.
Nevertheless, the Botnet Blacklist virus name can also indicate that the security program encountered malicious behavior and blocked a threat. The Avast popup may be triggered by BCMUPnP_Hunter botnet, Mirai, Torii, VPNFilter, and other botnets or related malicious files.
Name
Botnet Blacklist
Also known as
re:botnet:blacklist or botnet:blacklist
Classification
Malware
Related applications
The detection is encountered by Avast users only
Symptoms
When the user attempts to connect to the uTorrent, BitTorrent, QBittorent, etc. Avast blocks the connection and displays a pop-up alert stating that the connection has been aborted because the UDP is infected with botnet:blacklist
Solution
The detection may be a false positive. In this case, users should upload the blocked URL or file to Avast's report suspected false-positive site. Whitelisting the pages or URLs won't solve the problem at this point, so disable Avast temporarily and use alternative AV tool if the detection is too annoying. However, do not leave the machine unprotected because the detection hasn't yet been proved to be false.
Removal
Perform a full system scan and eliminate the malicious files that the AV tool has quarantined. If Avast cannot delete malicious entries, try alternative security software
Fix virus damage
If the machine has been infected, proper optimization is required upon its removal. For that, you can use

Reimage

Reimage Cleaner

Intego
The issue with supposed Avast false positives has emerged at the beginning of July 2020. People started reported intrusive pop-up alters every few minutes when they attempt to establish TOR connections to qBittorrent and torrent sites. One of the Avast users states on Reddit:
AVG popup repeatedly pops up with a warning that threat has been secured and connection aborted to a udp url claiming infection with Botnet:Blacklist. The process is to Library app (exe). I have had this app for over two months and today was the first time AVG Web Shield considers it a threat. What can I do to prevent this popup?
Suchlike reports appeared en masses, so it's very likely that the culprit of the botnet:blacklist virus detection is on the Avast's end. The latest changes on the Avast Web Shield might be encountering some inconsistencies and, therefore, some sites may be falsely recognized as being connected to a botnet.
Usually, the false positive detections can be bypassed by adding the file, program, or website to the list of exceptions or whitelists. However, the Botnet Blacklist Avast virus detection cannot be disabled this way. Avast blocks the connection from UDP or TCP address in relation to the supposedly malicious qbittorrent.exe file. The problem is that the UDP and TCP IP addresses keep changing, so whitelisting all of them is impossible.
According to the users' reports, including the qBittorrent to the exceptions list does not solve the problem either, so it may seem like a problem without a solution. Experts from Dievire.de[3] recommend people who are facing this issue to disable Avast temporarily and employ alternative security software until Avast fixes the bug. Besides, notify the company about a possible false-positive botnet:blacklist virus detection on the "Report a suspected false positive" site.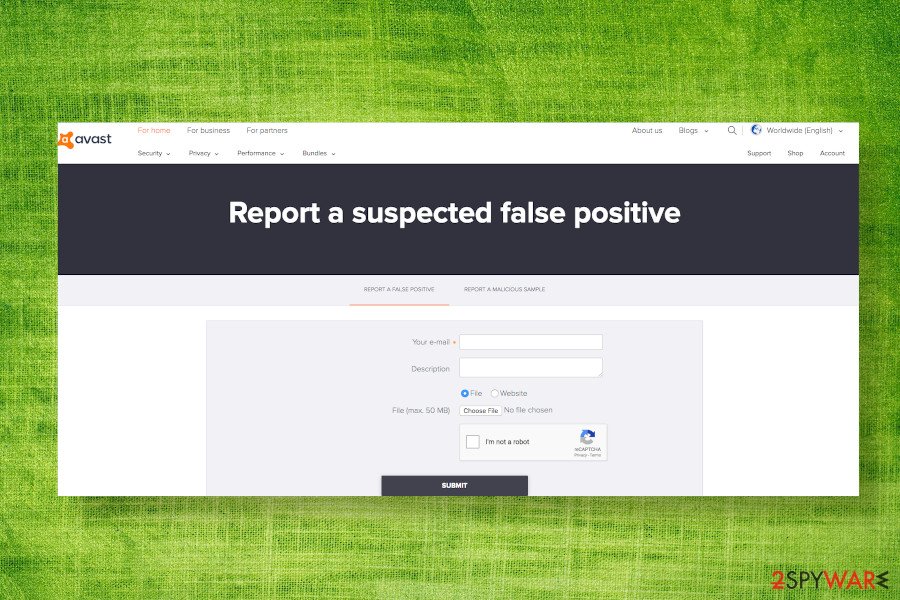 Avast has an official website where suspected false positive detections can be reported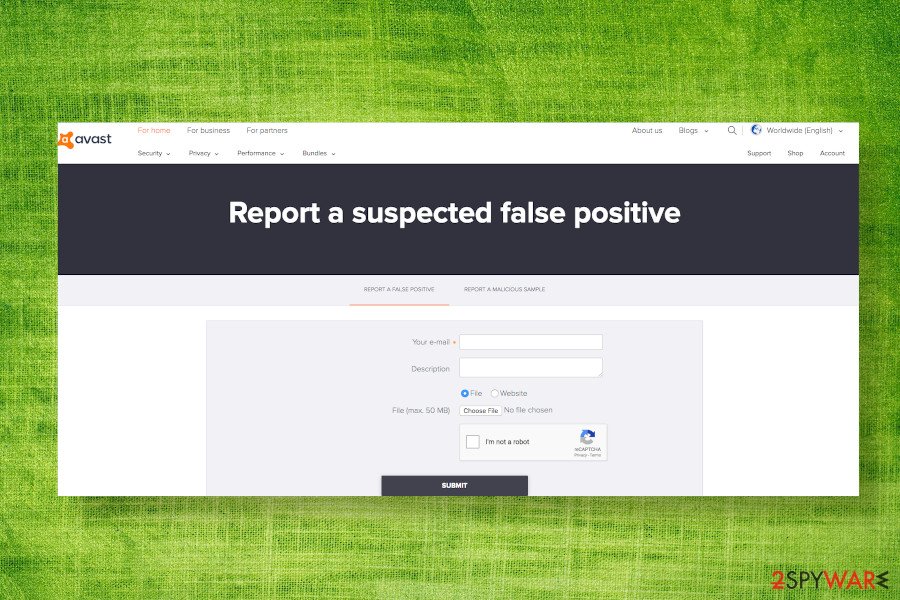 Avast has an official website where suspected false positive detections can be reported
Botnet:blacklist virus detection can mean a targeted malware attack
Every anti-virus program has its pros and cons, though false-positive detections are a common problem for all of them, which occurs after some virus definition updates. Therefore, irritating Avast popups is not something exceptional. However, popup warnings about the Botnet Blacklist Avast virus should not be ignored.
There are many examples when botnets[4] were targeting PCs via torrent sites. Infecting and spreading pirated software via sites like uTorrent, BitTorrent, QBittorent, and others is a rather easy task that ultimately allows cybercriminals to build a network of Internet-connected devices and perform crimes like DDoS attacks.
Typically, attackers infect a file (in this case Avast indicates an infected qbittorrent.exe file), which once opened, can download other malicious entries and take control over the PC. Therefore, if you've been warned about a virus detection or malicious behavior by the AV tool, try to remove Botnet Blacklist virus or related files in the first place. For that, run a full system scan with the AV program and remove all entries that it indicates as malicious.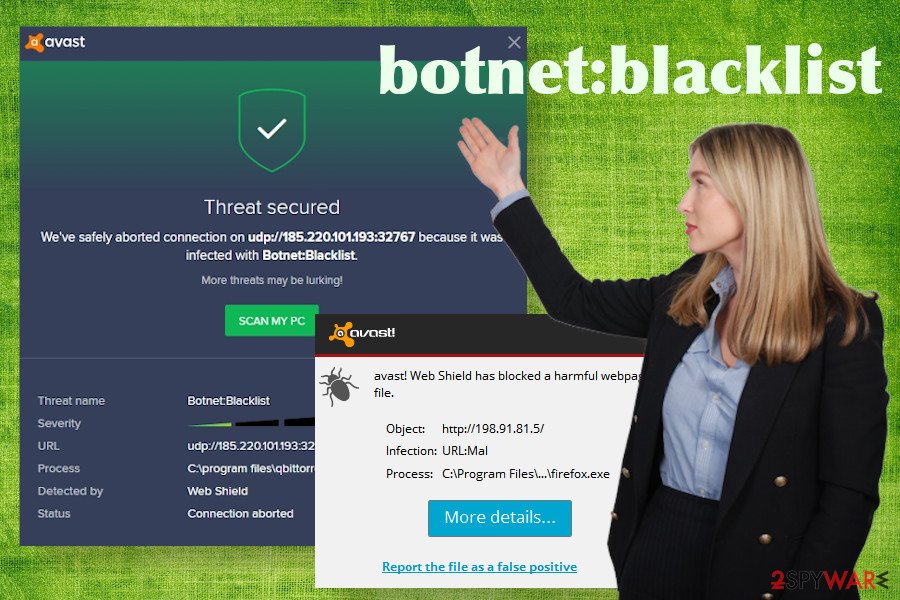 Botnet Blacklist Avast virus may be a false positive detection. However, while it hasn't been approved as such, precautionary measures have to be taken to protect the machine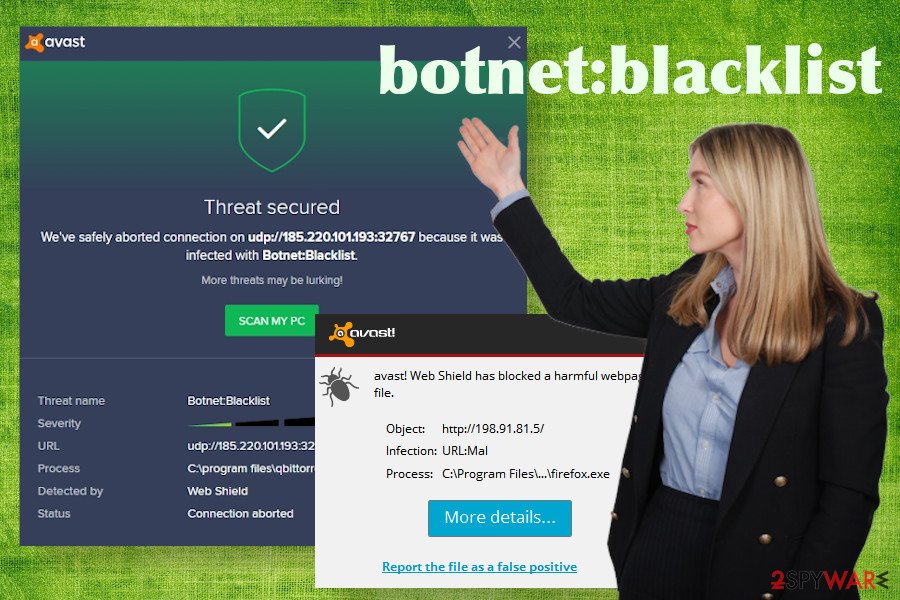 Botnet Blacklist Avast virus may be a false positive detection. However, while it hasn't been approved as such, precautionary measures have to be taken to protect the machine
If Botnet Blacklist removal is not possible because the software does not recognize related files, we recommend downloading an alternative security tool and double-checking the system with it. If no malware is detected, then most probably the alarm was false. In this case, check your machine with Reimage Reimage Cleaner Intego utility to check if the system is not encountering any software crashes.
Botnet:Blacklist virus presence on the machine would be accompanied by additional symptoms, such as:
slow machine's performance;
unusual CPU consumption leaps;
questionable processes running in the background;
new programs installed without your consent;
settings changed on a web browser, random sites open, etc.
In this case, it's advisable to run a full system scan and immediately remove Botnet Blacklist virus from the machine. For that, you can try any professional security software.
Avoid pirated software to protect the machine from malware
You should not consider every detection brought by AV tools false positive. Most of the applications detected by security software are really questionable and, even more, dangerous. If you consider the software to be malfunctioning, you can always download its latest updates and repair its work. Only a fully functional antivirus program can ensure PC's protection.
Unfortunately, if you are a devoted user of torrenting services and pirated software is welcomed on your machine, there's always a risk of downloading a malware-infected piece of software, which may bypass security software and hack your machine for various purposes. Therefore, before downloading anything from the Internet for free, check the comments about it, read info about the people who share files, and scan the downloaded file before opening it.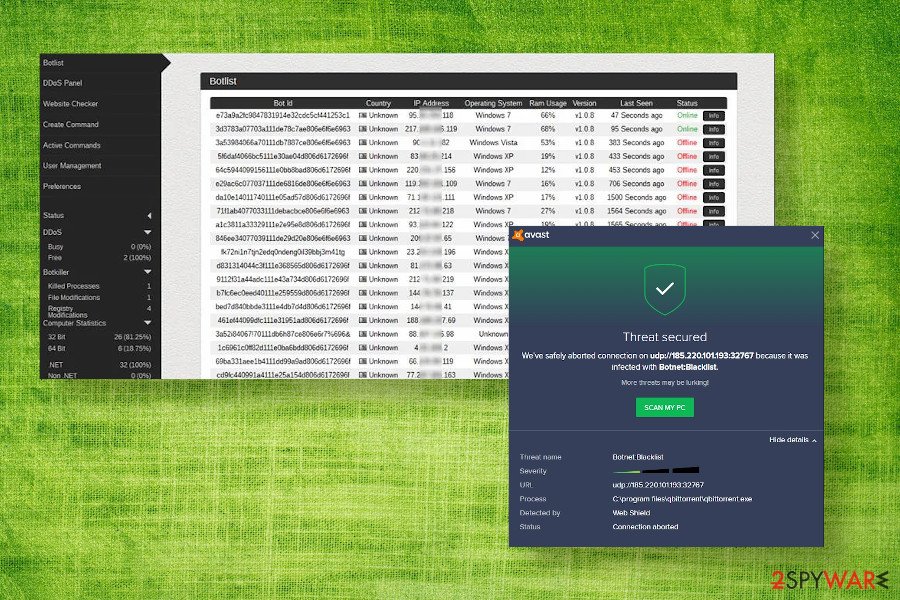 Botnet Blacklist virus typically detected by Avast when trying to connect to the torrent sites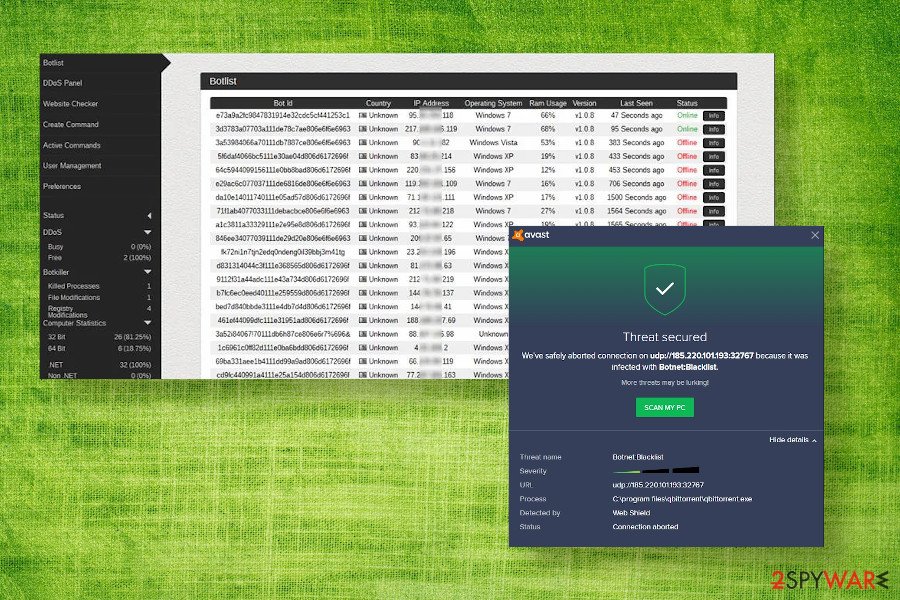 Botnet Blacklist virus typically detected by Avast when trying to connect to the torrent sites
Update Avast to remove Botnet Blacklist virus and eliminate other malware
Botnet:Blacklist Avast virus detection is one of the controversial scan results, which may indicate software inconsistencies or malicious behavior on the machine. The warning is likely to be real if the pop-up is not the only symptom. In this case, a full system scan with a proper tool is a must.
If your machine is infected by a Botnet:Blacklist malware, robust anti-malware programs like SpyHunter 5Combo Cleaner or Malwarebytes would help. Restart the machine into Safe Mode to disable dangerous processes, download a preferable security program, and run a scan with it.
If, after all, it turns out that the Botnet Blacklist Avast is a non-existent virus, the temporarily switch to another AV tool and report the software developer about the issue. The false-positive should be gone with the latest definition update.
Online spying has got momentum in recent years and people are getting more and more interested in how to protect their privacy online. One of the basic means to add a layer of security – choose the most private and secure web browser. Although web browsers can't grant a full privacy protection and security, some of them are much better at sandboxing, HTTPS upgrading, active content blocking, tracking blocking, phishing protection, and similar privacy-oriented features.
Nevertheless, there's a way to add an extra layer of protection and create a completely anonymous web browsing practice with the help of Private Internet Access VPN. This software reroutes traffic through different servers, thus leaving your IP address and geolocation in disguise. Besides, it is based on a strict no-log policy, meaning that no data will be recorded, leaked, and available for both first and third parties. The combination of a secure web browser and Private Internet Access VPN will let you browse the Internet without a feeling of being spied or targeted by criminals.
While much of the data can be accidentally deleted due to various circumstances, malware is also one of the main culprits that can cause loss of pictures, documents, videos, and other important files. Potentially unwanted programs may clear files that keep the application from running smoothly.
More serious malware infections lead to significant data loss when your documents, system files, or images get locked. Ransomware is the one that is focused on such functions, so your device gets useless without access to needed data. Even though there is little to no possibility to recover after file-locking threats, some applications have features for such recovery in the system.
In some cases, Data Recovery Pro can also help to recover at least some portion of your data after data-locking virus infection or general cyber infection.
This entry was posted on 2020-07-02 at 04:03 and is filed under Malware, Viruses.