BonziBuddy is one of the most infamous adware with spyware traits, which has been shut down in 2004, but renewed download emerge in 2020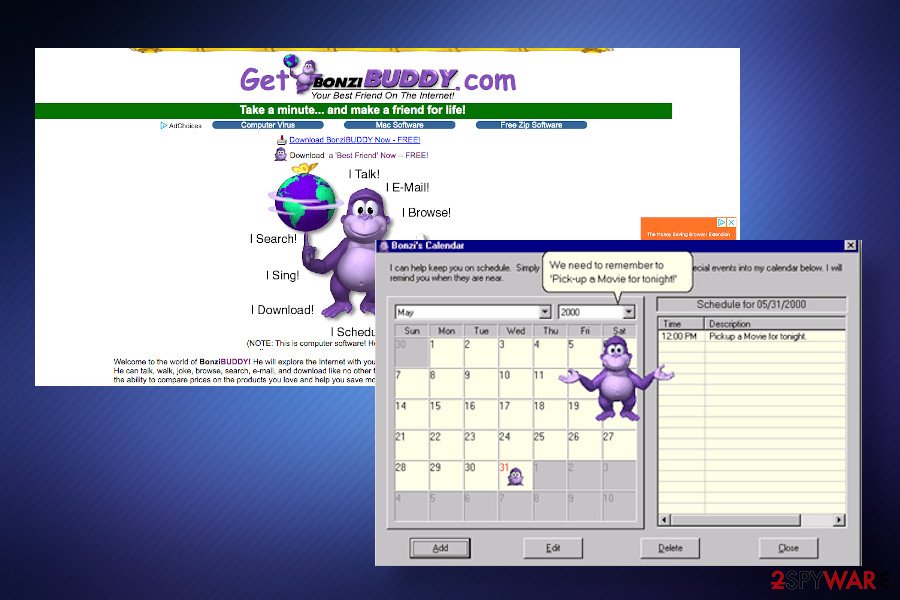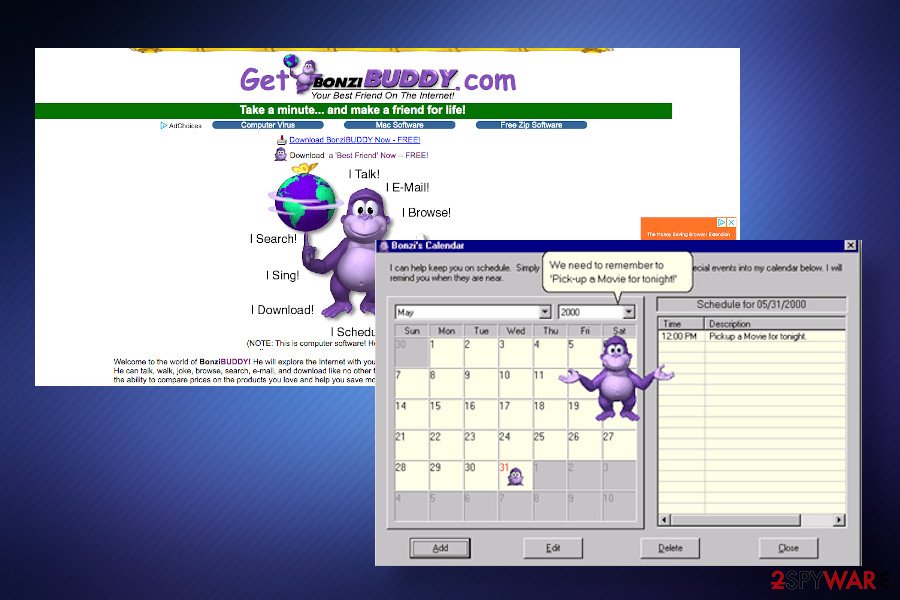 BonziBuddy is the name used to describe an adware-type application developed by Joe and Jay Bonzi. The software has been released in 1999 and worked similarly to Office Assistant. The two characters Peedy (green parrot) and Bonzi (purple ape) were introduced as virtual desktop assistants were interacting with the users in a form of text box or speech. However, due to the mixed traits of adware, malware, spyware, and browser hijacker, multiple cybersecurity vendors included it into the virus database as adware or spyware[1]. The final point to the BonziBuddy adware assistance was the official Federal Trade Commission statement fining the developers $75,000 in fees for spyware activities against children under the age 9.
Although the software was discontinued in 2004 and the reports about the closure of the official website's closure were released in 2008, BonziBuddy adware remains reminiscent. In 2016, a file-encrypting virus called BonziBuddy ransomware has been revealed on the landscape spreading as a second payload of a trojan infection. Moreover, in spring 2020 cybersecurity experts form novirus.uk[2] draw their attention to the suspicious fake website (fightfasr731.weebly.com) offering a download of Bonzi Buddy app for Macs.
Malware summary
Name
BonziBuddy
Release date
1999 the initial release. The second update emerged in 2000, while in 2004 the software has been discontinued
Classification
The software belongs to the adware and Potentially Unwanted Programs (PUP) category. However, it exhibited spyware traits and was even fined for violating the Children's Online Privacy Protection Act.
Distribution
The adware used to have an official download website, which has been shut down in 2008. However, experts warn that some malware may try to mimic the BonziBuddy assistant and spread it in a freeware bundle. Besides, spam emails should be treated with caution to evade infiltration of related ransomware
Detection
Adware.Win32.Bonzo.2!c, Trojan.Generic.IS.543530, Not-a-virus:AdWare.Win32.Bonzo.f, Win32:Adware-gen [Adw], ApplicUnwnt@#13y1vkoet2u8a, PUA:Win32/Presenoker, etc.
Symptoms
The original application used desktop helper characters Peedy or Bonzi, which kept displaying text messages and voice interaction directly on the desktop. However, one of its additional traits was to display commercial ads or banners imitating Windows security alerts. It may also trigger high CPU consumption
Danger level
Medium. The software is known for displaying intrusive advertisements, which contain an idle close button and, therefore, cannot be closed. However, the adware tends to function as spyware and may collect some pieces of Personally Identifiable Information (PII)
Removal
BonziBuddy malware removal rely on a professional anti-virus program. Additional malware components may be left unnoticed on the system upon manual removal
Malware damage
Malware can compromise legitimate Windows system files and processes, thus causing slowdowns, crashes, and errors. Upon removal, the system required optimization and the

Reimage

Reimage Cleaner

Intego can be of use this time.
The Bonzi Buddy app has been promoted in an appealing manner and had a relatively wide community of users at that time. Jokes, facts, songs, conversations, or download management services provided by BonziBuddy were treated as handy and entertaining by many users of those days, and, in fact, some people are still looking[3] for a download of this tool. Unfortunately, most of them were not aware of the fact that the software has hidden functions and intentions.
He will explore the Internet with you as your very own friend and sidekick! He can talk, walk, joke, browse, search, e-mail, and download like no other friend you've ever had! He even has the ability to compare prices on the products you love and help you save money! Best of all, he's FREE!
First of all, it has been described as a free application, which is a false claim used to tempt users for a download. In fact, the free version exhibited samples and demos only, and users were regularly offered to pay for the new modules.
In addition to that, the application was reported for impersonating Windows security warnings, which contained false claims about the broadcasted IP addresses[4]. The purpose of such notifications is not known, though there are speculations that they may be used for distributing affiliate software.
However, intrusive advertising campaign and Windows slowdowns are not the only side effects of the BonziBuddy malware. It tended to drop cookies and spyware software that may track browsing and system-related information, as well as some pieces of personally identifiable information. This fact has been proven when the developers have been convicted to pay a $75,000 fine for privacy violation of children under 9.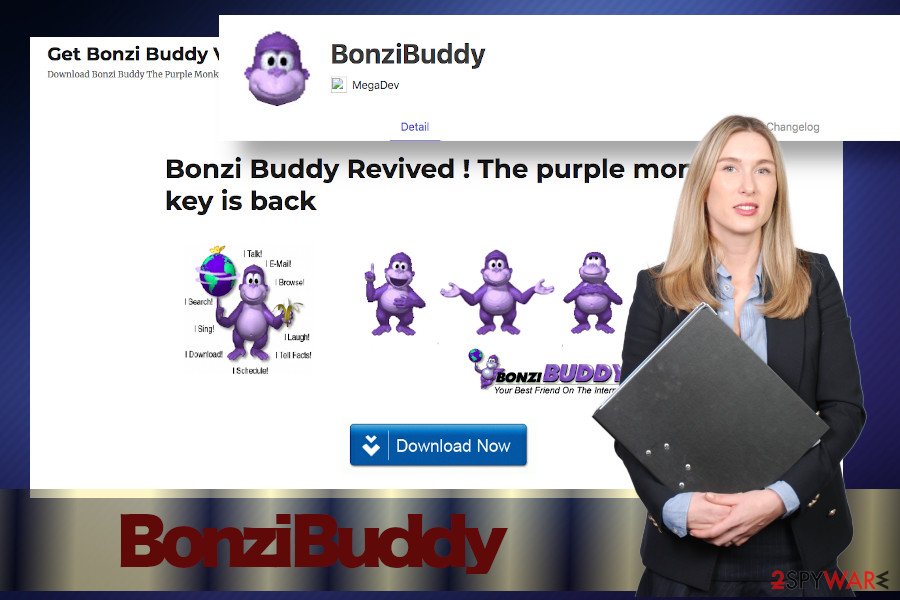 BonziBuddy has been classified as one of the most intrusive adware-type programs ever released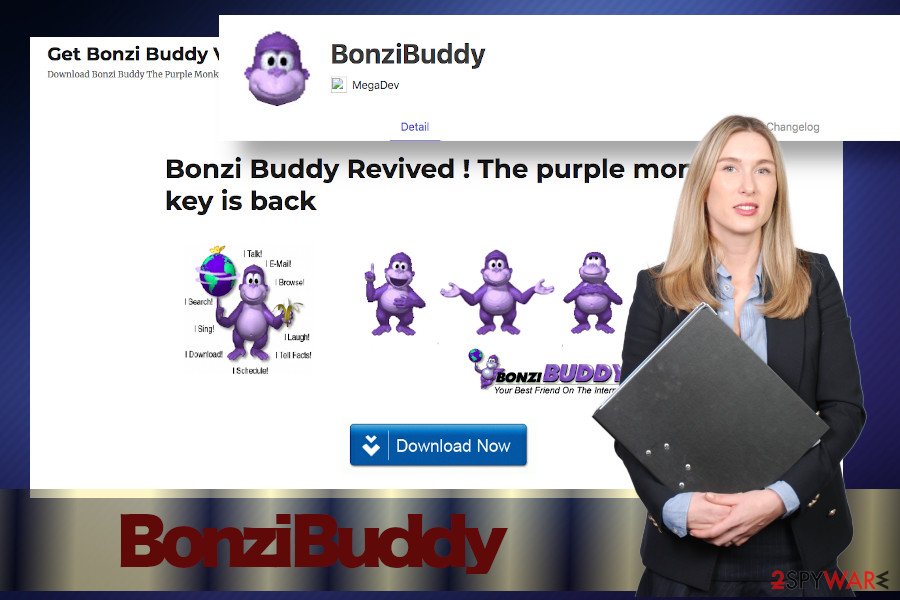 BonziBuddy has been classified as one of the most intrusive adware-type programs ever released
If you are dealing with an adware-type program that displays a purple ape on your desktop, delivers ads, compromises web browser's settings, or perform other unwanted activities, take corresponding actions and get rid of it. BonziBuddy removal is not a difficult task. You can try to eliminate it manually with the help of a guide positioned below.
Nevertheless, this adware and spyware mix has been rated 6th on a list of "The Top 10 Most Annoying Tech Products"[5] for a reason. The adware may be used for promoting other malware or use supportive files and processes that may be difficult to detect and eliminate. For this reason, we recommend you remove BonziBuddy virus with a powerful anti-virus program, for example Malwarebytes or SpyHunter 5Combo Cleaner.
Revived strains of BonziBuddy malware manifests on the market in 2020
Having these facts in mind, security experts warn online society to beware of the apps carrying names like BonziBuddy or Bonzi Buddy. Although they can hardly be the same as the ancient desktop assistant featuring malware traits, there is a potential danger to download even more malicious tools.
Despite the official application has been discontinued in 2004, several questionable download websites, including Tucows downloads, keep promoting the purple ape app. Besides, the official website bonzi.link also seems to be active. Our security experts checked the domain and found out that both download links and ads positioned on this domain are active. Clicking on BonziBuddy ads redirect the web browser to a domain promoting Honey coupon extension for Chrome, which is a highly questionable tool resembling adware.
Moreover, initially designed for Windows OS only, the infamous adware now seems to have switched its target to Mac OS and iOS users. One of the main promotion sources is Twickd, which represents the BonziBuddy for Mac iOS as a personal buddy that can talk to users personally and "turn your icons slowly into bananas." The renewed app is under the active development stage, so it's not yet clear will it mimic the behavior of its predecessor or emerge as a malware-free application.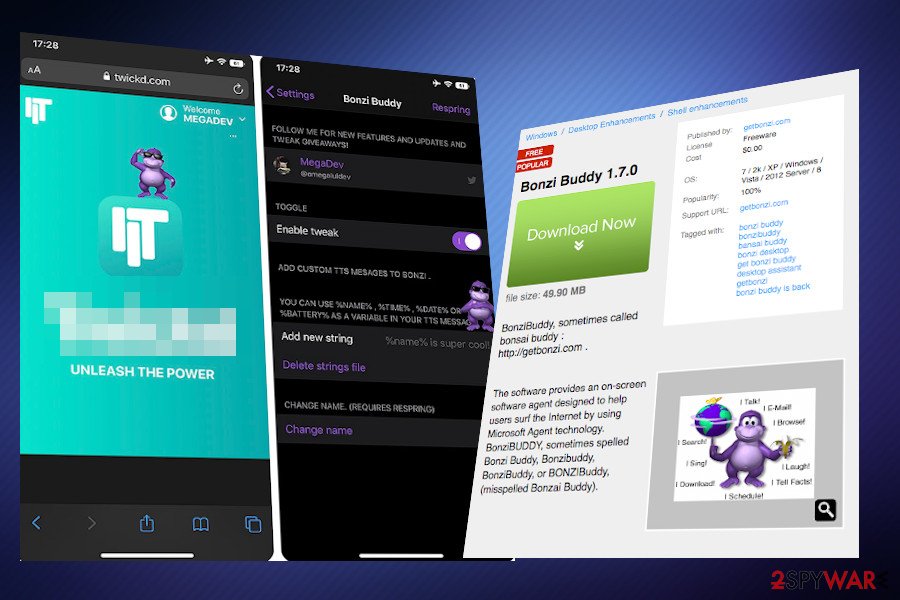 Some websites offer free BonziBuddy downloads these days, though there's not much know if these updated versions are reliable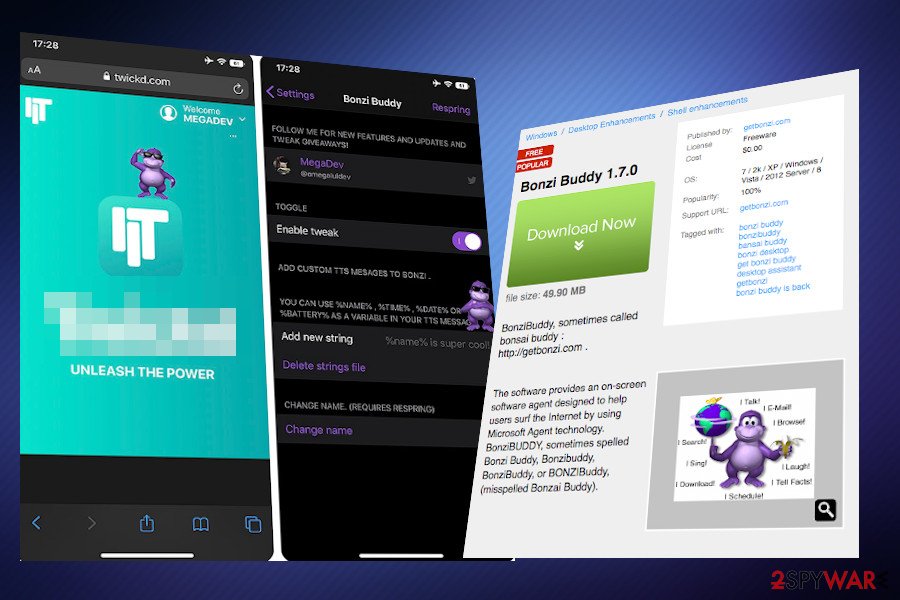 Some websites offer free BonziBuddy downloads these days, though there's not much know if these updated versions are reliable
Two ways to get adware – download it reasonably or bundled with freeware
Adware and other PUPs are promoted in several ways and we will briefly explain each of them. However, before pointing out the possible adware distribution techniques, we'd like to stress the fact that not all programs that have official websites, a well-prepared description, and strong marketing are reliable.
In the case of the adware described above, most of the downloads have been registered directly from its official website. It means that people get tempted by vivid descriptions of tools and download free apps willingly.
Nevertheless, unwanted programs are frequently attached to freeware and shareware downloads. For the monetization purposes, free software developers append additional plug-ins, add-ons under Quick installation setup and grant their access by placing a tick next to the user's consent. That's why it's important to opt for Advanced installation and untick pre-selected additional tools.
Questionable ads may redirect to adware download websites. If the system is infected by adware or browser hijacker, web browser may continuously redirect to suspicious websites promoting malware.
Other third-party websites. Questionable download websites like download, cnet, Softonic, and many others may promote free apps that are classified as potentially unwanted due to advertising or spyware activities.
In general, the only way to stay away from unwanted programs that once installed start disrupting activities and compromise system's performance is to render consciousness. Make small research on apps that you are planning to download and do not trust unreliable sources. Besides, render a professional security tool, which will warn you when an unwanted program seeks to enter.
A full guide on how to remove Bonzi Buddy from Windows and Mac
Despite the fact that BonziBuddy malware has been discontinued more than 15 years ago, there are questionable downloads of the supposedly renewed or rogue variants. If you noticed questionable activities on your PC, for example, ads by BonziBuddy, a purple ape character on your desktop and visited websites, web browser's new tab replaced by an unknown domain, etc., you may need help.
One of the ways to remove BonziBuddy adware is to analyze apps on the system and eliminate the adware installer. After that resetting web browser's settings is advisable to disable a plug-in and tracking cookies.
However, manual BonziBuddy removal may fail due to additional adware components. Windows Registry may contain the related key, as well as some supporting components that may be run in Task Manager. In this case, a full system scan with a powerful AV tool may help. Besides, as the last point, restore the system to the state prior to adware infection with an optimization tool Reimage Reimage Cleaner Intego.
You may remove virus damage with a help of Reimage Reimage Cleaner Intego. SpyHunter 5Combo Cleaner and Malwarebytes are recommended to detect potentially unwanted programs and viruses with all their files and registry entries that are related to them.