AZORult virus is a trojan horse used to spread Aurora, Djvu and other ransomware viruses to the target devices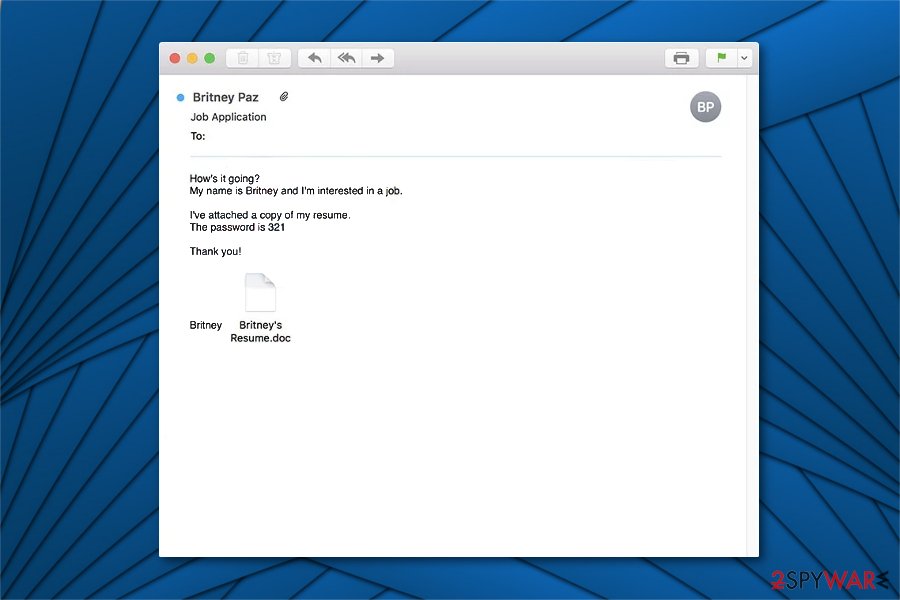 AZORult is a Trojan horse which has been spreading via malicious spam emails that impersonate job applications, e.g. "My name is Britney and I'm interested in a job." The virus is using a backdoor[1] feature to infect systems with more dangerous infections. Recently, AZORult virus was spread by Aurora ransomware, Djvu family threats, e.g. Mosok, and other malware. In addition, it can be used to collect valuable personal information and then transfer it to its developers. Keep in mind that it might later be used for phishing purposes and lead to financial losses.
Name
AZORult
Type
Trojan horse
Danger level
High. Collects sensitive data and infects systems with malware
Detection
Regular computer users might not be able to identify the infection as it doesn't display a visible window
Potential dangers
It can steal logins, passwords, credentials and exploit them for malevolent purposes. Also, the backdoor feature could open a path for more cyber threats
Distribution
Spreads via malspam campaigns. Emails come impersonating job applications with a malicious attachment which disguises as a .doc resume file
Removal
If the trojan managed to infect the system, you should get

Reimage

Reimage Cleaner

after uninstalling AZORult virus safely. This will help you fix your PC system completely by eliminating virus damage.
The most notable feature of AZORult virus which makes it exceptionally dangerous is the keylogging[2]. In other terms, this cyber threat is programmed to record keystrokes, open spoof login windows that look legitimate and collect credentials, personal data and additional valuable information for the developers of AZORult stealer.
Keep in mind that personally identifiable data is highly valuable for the attackers as they might sell it in the underground market and earn illegal profits. Such activity not only puts your privacy at risk but also may lead to enormous financial losses by unauthorized transactions from your bank account.
Additionally, AZORult could be capable of providing remote access to the attacked system for the hackers. Likewise, cybercriminals could use a backdoor feature to open paths for more malicious programs and damage the computer permanently.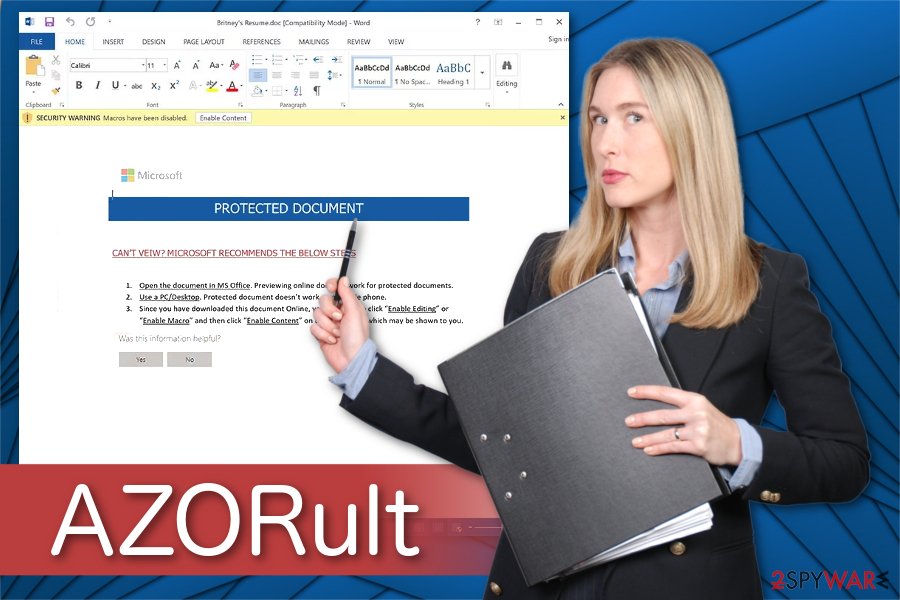 AZORult virus is a dangerous cyber threat which spreads via fake job application emails.
For all the reasons mentioned above, we strongly suggest you remove AZORult virus as quickly as possible. Since the infection does not display a visible window, you may not be able to identify it in the first place. Therefore, the wisest decision would be to get a professional antivirus.
Reimage Reimage Cleaner is an excellent choice for fixing virus damage after AZORult removal as it can change system files and registry entries. If you can't install the security software, you should boot your computer into Safe Mode. Free instructions showing how to do so are appended at the end of this article.
Obfuscated Trojan horse is distributed via malicious job application email
According to the researchers[3], this trojan horse spreads via malspam campaign sending malicious emails as job applications. Users receive electronic letters asking to apply for a job place. Additionally, the message includes the .doc resume file which is protected with a password.
Unfortunately, this is a trick used to lure unsuspecting computer users into opening the malicious attachment with the payload of a trojan horse. Keep in mind that cybercriminals are highly advanced as the password protection feature prevents users from scanning the file with an antivirus before opening.
Therefore, you should be exceptionally cautious and recognize an attempt to infect your computer with a malicious program immediately. Note, do NOT click on the attachment and refrain from opening the email in the first place. In fact, never click on any inbox content which comes from people or companies you don't have business with.
Remove AZORult virus with the help of a security tool
AZORult analysis showed that manual elimination of the virus is almost impossible. Trojan horses are sophisticated and may find ways back to the system if a regular computer user fails to get rid of it properly. Luckily, you can remove AZORult virus automatically with a professional antivirus.
Once you are done with eliminating malicious files, download and scan your computer with Reimage Reimage Cleaner . Once it detects system improvements, it will perform system recovery which is an important step after the AZORult removal. If you have struggles installing the security tool, try disabling the virus by rebooting your system into Safe Mode as shown in the instructions below.
This entry was posted on 2019-11-11 at 08:05 and is filed under Trojans, Viruses.