Android Police Virus is the scamming campaign that targets mobile users with fake cyber police alerts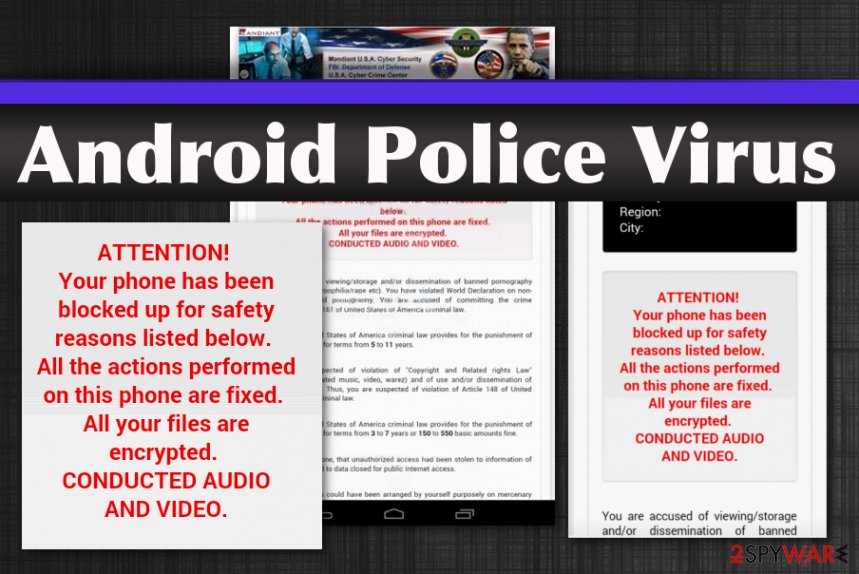 Android Police Virus is the mobile infection caused by trojans and other malware that comes from dangerous online content.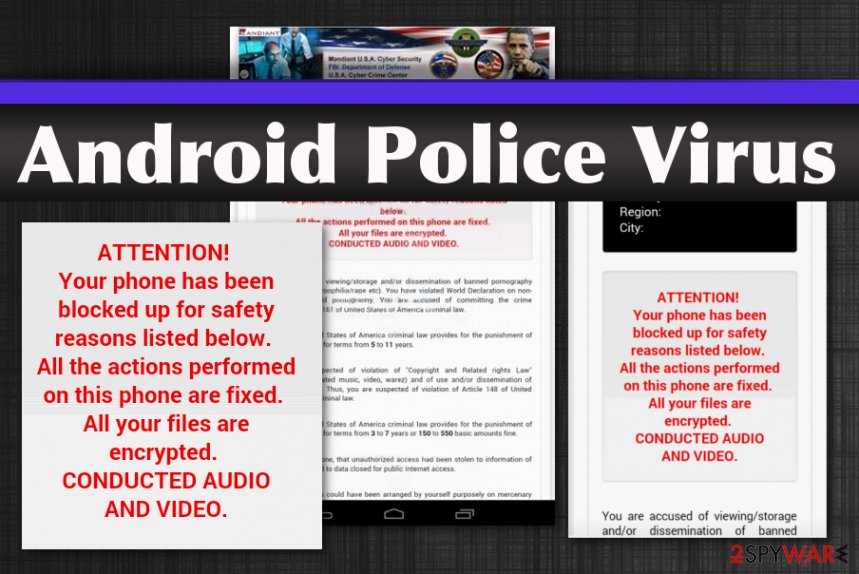 Android Police Virus is the mobile infection caused by trojans and other malware that comes from dangerous online content.
Android Police Virus is the mobile infection that tries to trick people into thinking that their device is affected by the software that encrypts files and can record information. In reality, this is the mobile ransomware that relies on blackmailing and extortion, so people follow suggested steps and installs additional malware or pays for the extortionists. Threats like this evolved recently and can interfere with various settings and parts of the system, so malware can damage your device significantly over time. Unfortunately, there is a possibility that locker is a secondary payload of the Trojan infection, so your device may be infected for a while before you experience these pop-ups and alerts.
However, it seems that Android Police ransomware virus is similar to crypto-malware that targets Windows. Scripts of the threat can geolocalize the device and show the message in the local language with particular images and law enforcement resemblance. By creating unique victim IDs, threat can track the number of the infected machines and measure the success of their ransomware attacks. This malware is known for targeting users on a global scale, mainly relying on European countries.
| | |
| --- | --- |
| Name | Android Police Virus |
| Type | Mobile malware/ ransomware/ lock-screen virus |
| Family | Android virus |
| Symptoms | The screen gets locked, and the device freezes when malware delivers the fake cyber police alerts and claims that you have been involved in illegal activities or visited dangerous sites. The pop-up claims that your data got encrypted and you need to pay for the recovery |
| Distribution | Trojans and other malware spread this threat. The initial infection happens due to pirated content, shareware services, and dangerous online sites that user gets exposed to or visits unknowingly |
| Target | Mobile devices running on the Android operating system |
| Danger | These alerts encourage people to pay or contact questionable criminals, visit dangerous online sites. These activities can lead to loss of money, data or serious damage to the infected device and your files |
| Elimination | You need to remove Android Police Virus as soon as you can without interacting with these alerts and clean the system fully, so all the associated trojans and malicious files get deleted. Use professional anti-malware tools for that and double-check before doing anything else |
Android Police Virus can sometimes get blocked by an anti-malware program that is already installed on the machine and can detect malicious activities or behavior that is considered suspicious. However, there are no applications that should get removed and fix issues with the machine.
You need a proper Android Police Virus removal that requires professional anti-malware tools. Such software can find, detect, and delete any files related to malicious activities or programs that loaded the ransomware behavior-based mobile virus. It does not encrypt your files, in most cases, so you don't need to worry too much about data recovery.
However, it can reappear over and over again when trojans and other threats run in the background. You may need to reboot the machine a few times to perform the cleaning processes or reset settings default ones, so all the apps get removed. This method also cleans all your data, so read further, check the guide below the article and make sure to remove the Android Police screenlocker as soon as possible.
Android Police Virus is a part of the Android virus category that targets Android devices and runs different processes to affect the performance. This is a malicious infection that was first released on the Internet in May 2014. This threat has different versions, and people reported about various malware campaigns with various symptoms. In fact, some people consider it to be ransomware, just like the FBI virus.
However, there are crucial differences between the Android Police Virus and typical ransomware functionality. It can only affect smartphones and tablets running Android operating systems, and ransomware, generally, is the threat that comes to Windows devices. Besides, security experts[1] consider it to be less malicious.
Android Police Virus is related to Koler.A BKA Trojan, which is usually activated after installing a corrupted application from a suspicious website or file-sharing portals, after clicking on media player updates when visiting adult content websites or after clicking on infected links. This is one of the more common methods used to spread more dangerous malware like worms, trojans, and ransomware around.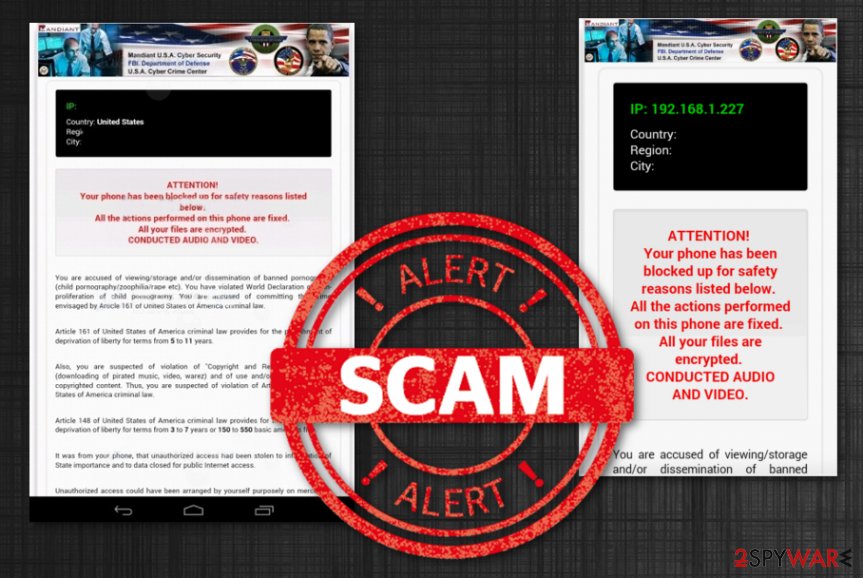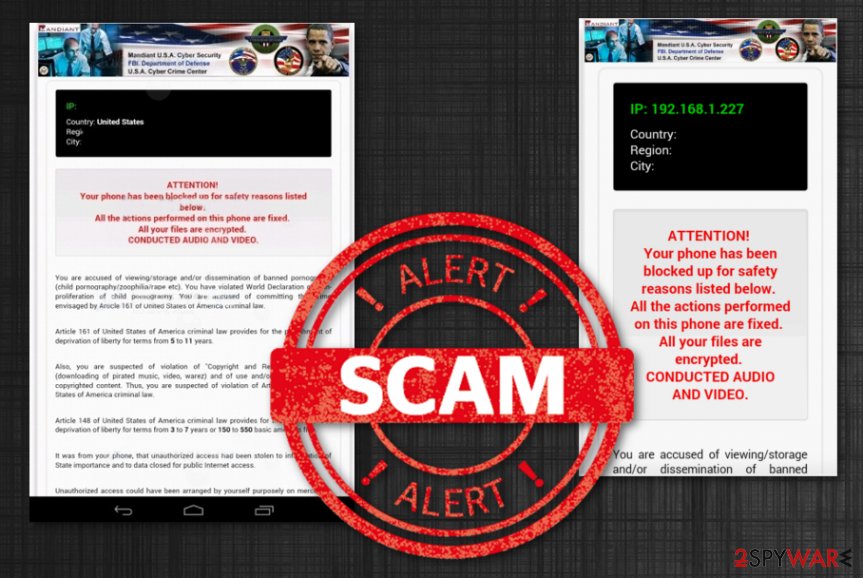 Once the Trojan is activated, it immediately locks down the machine and delivers a fake alert accusing you of committing a serious cybercrime due to which your computer has been locked. An example of Android Police Virus alert pop-up:
ATTENTION!
Your phone has been blocked up for safety reasons listed below.
All the actions performed on this phone are fixed.
All your files are encrypted.
CONDUCTED AUDIO AND VIDEO.
This message is adjusted according to the PC's location, which can be determined with the help of GPS and wireless data on your Android. Consequently, the message can show up in various languages, based on the country to seem legitimate. By the way, it is supposedly sent by national security service or GVU (Gesellschaft zur Verfolgung von Urheberrechtsverletzungen), which is an organization that works to stop copyright infringement.
Since people are usually blamed for downloading files illegally and scared into thinking that if they do not pay the fine, which is $300 for American victims, national security service will penalize them for illegal activities, they immediately start considering paying the fine. You cannot get rid of the Android Police Virus this way, you only get exposed to potentially dangerous content by paying or contacting criminals.
However, you have to keep in mind that it's just a scam, which has nothing in common with the law enforcement authorities.[2] After paying the ransom, you may not only lose money but may also reveal credit card details to cybercriminals, which may encourage them to implement further crimes.[3] make sure to ignore messages like this and remove Android Police Virus as soon as possible with anti-malware tools or security programs capable of detecting the threat.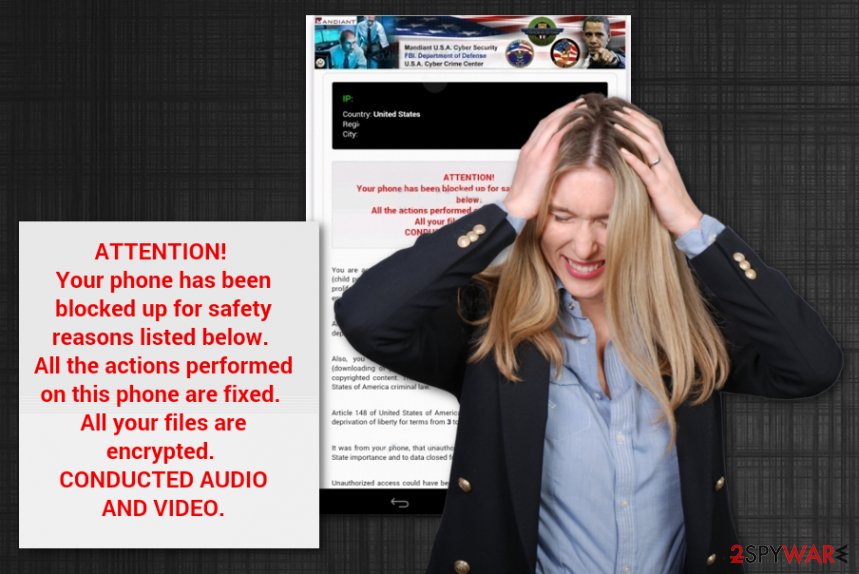 Android Police Virus is the threat that locks screen of the mobile phone and claims to have information about illegal activities on the said device.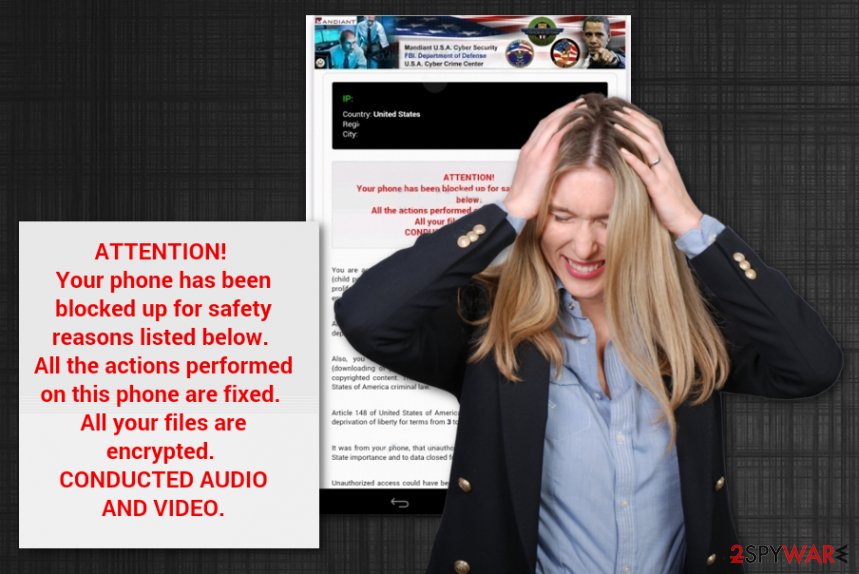 Android Police Virus is the threat that locks screen of the mobile phone and claims to have information about illegal activities on the said device.
Mobile malware distribution ways
There are a lot of different methods that cybercriminals use to spread infections around. Usually, such and similar infections like trojans or malware are caught when visiting illegal or pornographic websites with mobile devices, when relying on malicious sources and pirated content. Such websites may contain really suspicious content, such as fake software updates, infected links, etc., which once clicked, may active a Trojan and infect your device with additional threats.
Besides, research has shown that this malware frequently infiltrates devices via corrupted apps. Of course, it's not very likely that you will install an app with malicious code from Play Store; however, if you prefer downloading applications from unfamiliar sources or unreliable file-sharing portals, or even promotional ads, you may easily end up with a serious computer or mobile infection.
Therefore, if you want to keep your device secure, stay away from suspicious websites, NEVER click on suspicious-looking links, alerts, ads and similar things on the browser and download apps only from reliable sources. Besides, you should install a powerful anti-spyware tool and keep it up-to-date.
Methods for Android Police Lockscreen Virus elimination
If you suspect that Android Police Virus is hiding in your smartphone or another Android device, we recommend you to check the system with a proper anti-malware tool or security software like SpyHunter 5Combo Cleaner, or Malwarebytes. Choose the app which is capable of detecting malicious files, malware, and virus components.
Of course, such infections can block security software in order to prevent removal. If you are going thru this experience right now, you should reboot your Android device into Safe Mode before launching the automatic Android Police Virus removal with Av tool:
Find the power button and press it for a couple of seconds until you see a menu. Tap the Power off.
Once you see a dialog window that offers you to reboot your Android to Safe Mode, select this option and OK.
If this failed to work for you, just turn off your device and then turn it on. Once it becomes active, try pressing and holding Menu, Volume Down, Volume Up or Volume Down and Volume Up together to see Safe Mode.
Make sure to remove Android Police Virus from the device before trying to recover any files or get back to working normally. Repair the damage of the virus with optimizers like Reimage Reimage Cleaner and double-check for traces of ransomware and other malware before recovering any data.
This entry was posted on 2020-02-07 at 06:03 and is filed under Malware, Viruses.