Android Charging Boost blue lock screen is an intrusive problem for Android users triggered by PUPs and malware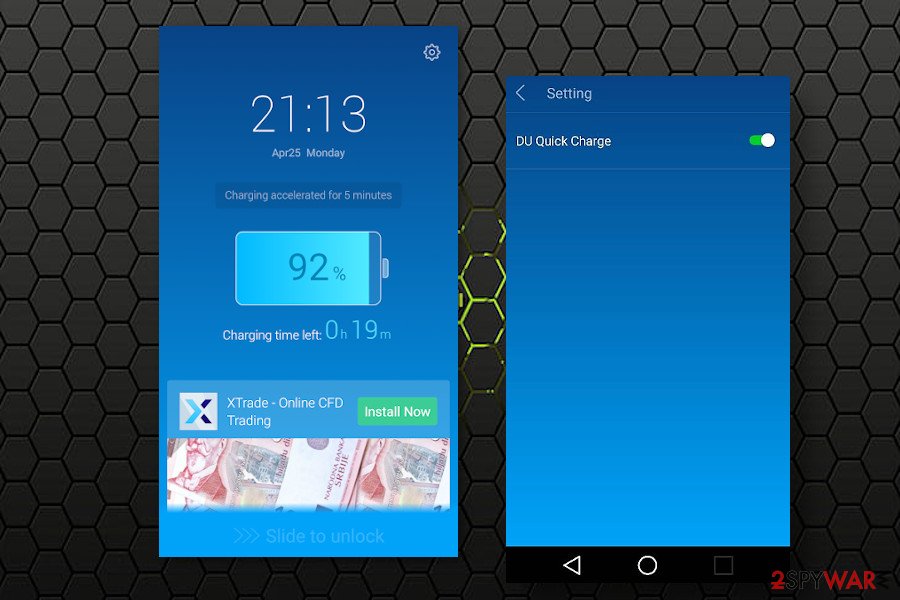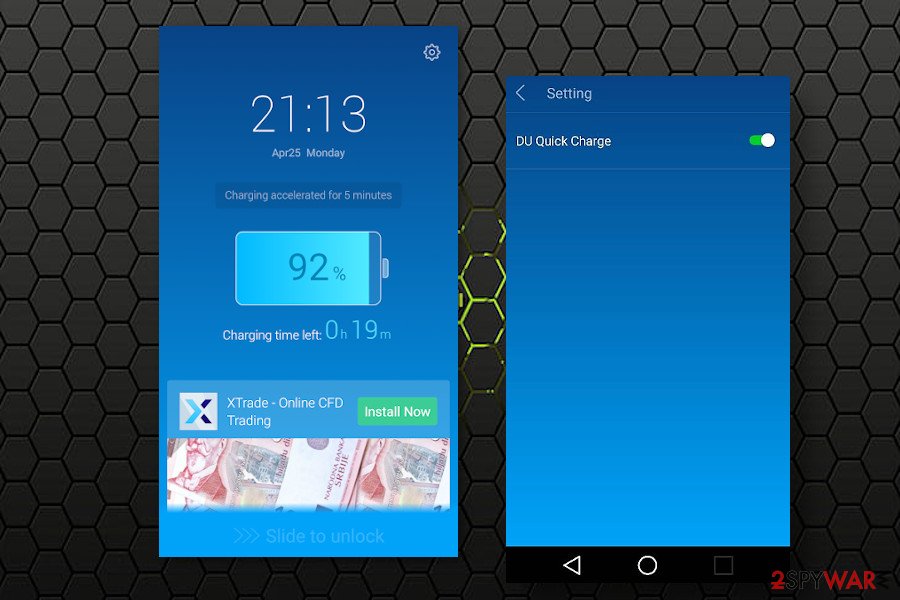 Android Charging Boost is an unwanted lock screen that emerges on Android devices when the system contains an ad-supported application. Usually, these applications are installed intentionally believing that they will improve performance, block intrusive ads, or whatnot. According to the reports[1] that flood Android forums from 2016 up till now, the unwanted blue lock screen filled with banner ads are typically triggered by tools like Cheetah Mobile, Stopbadapp, WiFi Analyzer, TouchPal 2016, Bestie, DU Battery Saver & Fast Charge, and Z Camera.
Android Charging Boost lock screen with ads appear soon after installing a potentially unwanted application (PUA) from the App Store or other sources. Note that some of the apps that trigger this issue are paid and should ensure users an ad-free environment. Although the Android ads and popups on the lock screen are not malicious themselves, they disrupt the usage of the device and can redirect the browser to highly suspicious websites used for promoting malware.
Name
Android Charging Boost
Category
Malware / Potentially Unwanted Program (PUP)
Geneology
Android virus
Symptoms
The Android tablet and phones generate a lock screen when the device is charging and is waken up from sleep. The screen contains intrusive popup and banner ads. Similar commercials emerge on random websites while browsing the web
Culprit
The rogue speed charging screen is not an application itself. It's a compound of an ad-supported freeware (the list of associated apps provided below)
Danger
The lock screen is more intrusive than dangerous. However, ads can promote suspicious or even dangerous websites. More malware downloads can be expected
Compatibility
Android Charging Boost virus is compatible with all Android devices.
Removal
Intrusive Android popups and lock screen can be stopped by removing PUA from the system.
Fix malware damage
The Android virus leaves its traces on the system's settings even after removal. Therefore, it's advisable to perform a factory reset or perform a scan with an application similar to

Reimage

Reimage Cleaner

Intego that is compatible with your OS type
Many users express concern about a fake-looking android charging boost screen, which locks the screen when the device is connected to a charger and the user has to slide rightward to unlock it. Typically, the screen displays time/date in the upper left corner, a menu bar in the upper right corner, a charger indicator, an intrusive banner ad at the bottom, and the "slide to unlock" notification at the very bottom.
Suchlike android charging boost popup is triggered by an adware-type application that also belongs to the group of potentially unwanted applications (PUA), which can be downloaded from various sources directly or piggybacks on other freeware and activates itself by default. If you are dealing with this issue, you should check your machine for the following applications:
Cheetah Mobile

Stopbadapp

WiFi Analyzer

TouchPal 2016

Bestie and

Z Camera

DU Battery Saver & Fast Charge
Flash Keyboard
File Manager apps
ES App Locker
GoSMS Pro
Clean Master
SpeedCharge
Users are accustomed to seeing intrusive ads on Google Chrome, Mozilla Firefox, and other web browsers while searching the web. However, android charging boost popup and lock screen is something that looks more intrusive and potentially dangerous. It's not pleasant to endure banner ads on the very first screen every time when the phone is opened.
However, it's important to remove the charging booster lock screen because some of the ads that it is set to display may contain links to shady third-party download websites. These ads help third parties monetize their services, boost traffic to affiliated websites, and, in general, gain profit without considering the experience of the end-user.
Even though users assure that they did not install a DU fast charge and similar apps that might have triggered the android boost lock screen, we strongly recommend checking the Apps list. Unwanted apps tend to infiltrate the system in composition with legitimate system tools. The others, for instance, ES File Explorer, has an option to enable DU Fast Charge function, which initially manifests as a system popup indicating a low battery warning. Those who enable the option are represented with an intrusive lock screen the next time the phone goes to sleep.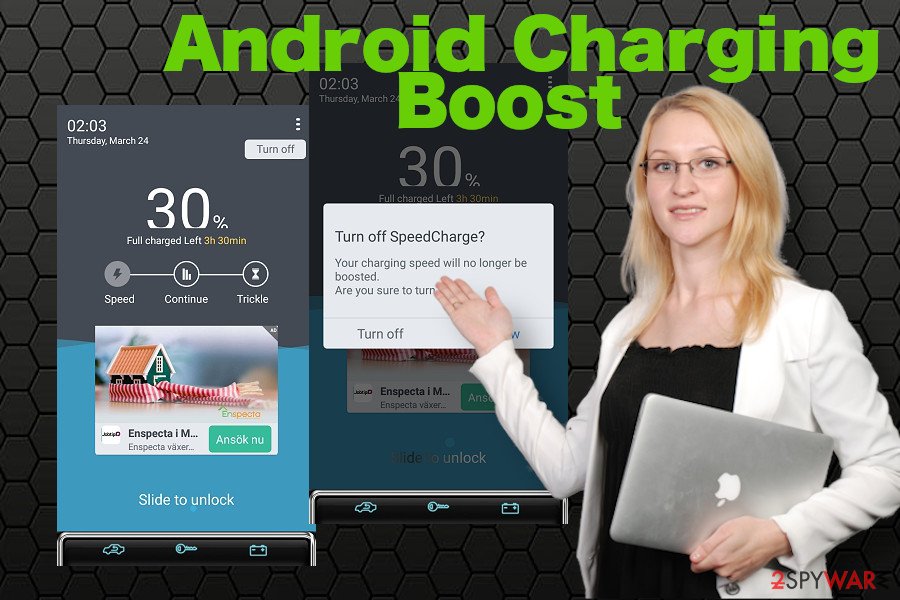 Android Charging Boost ads on the lock screen are triggered by potentially unwanted applications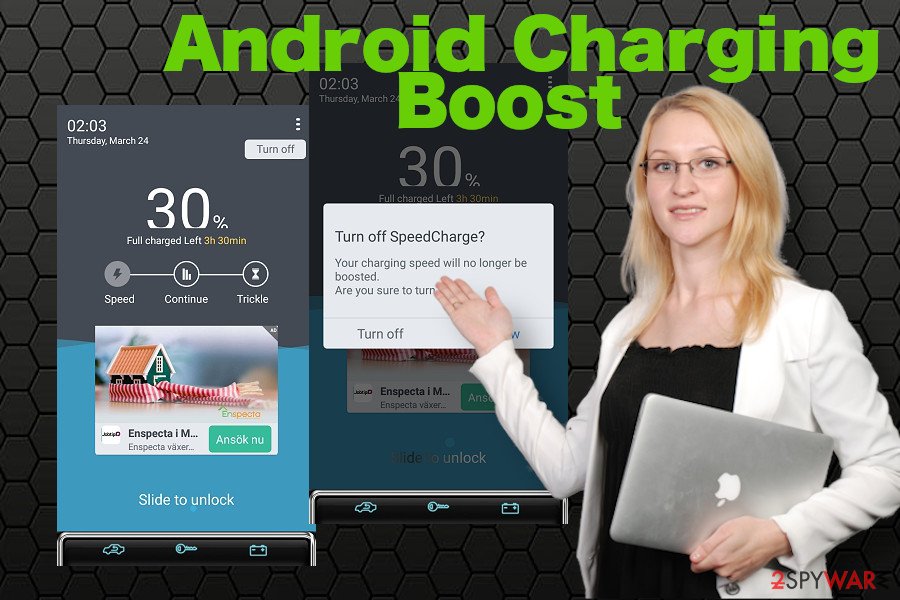 Android Charging Boost ads on the lock screen are triggered by potentially unwanted applications
In addition to charging booster popup android screen, people may suffer from unwanted browser-based advertising. Google Chrome ads, just like charging lock screen ads are potentially dangerous, so clicking on them is not recommended. Third-party ads are not monitored properly, so the links they contain may redirect to scam sites, malware download websites, or rogue surveys.
To get rid of intrusive Android lock screen and remove the Android Charging Boost virus completely, people should carefully analyze what apps have recently been installed. The list of malware provided above is exhaustive, so if you did not find any of the listed apps, double-check for suchlike freeware and eliminate it.
You can remove the charging booster manually simply going through the list of installed apps and eliminating unfamiliar tools one by one. However, you should also check your machine with a tool similar to Reimage Reimage Cleaner Intego repair that is compatible with your OS to fix the damage that PUA might have initiated.
PUPs and malware infiltrate Android devices piggybacking on freeware
Android viruses are less common if we compare the numbers of infections with Windows OS. However, researchers noticed an evolution of mobile malware in 2019[2] and it's expected that 2020 can be marked by Android malware even more. So, what can a regular Android user do to protect the device from unwanted apps?
First of all, stop downloading applications from unapproved sources. Third-party download websites get commission fee for spreading freeware bundled with "optional" third party applications. Therefore, reckless download of free tools often ends up with the whole list of ad-supported apps on Android.
Therefore, it's crucial to investigate applications that catch your attention before downloading and testing them. Read reviews, check the database of cyber threats on reliable virus blogs[3], and always opt for Advanced or Custom installation option, and monitor the process carefully. Moreover, do not give permission for apps to show notifications because your web browser may start generating unwanted ads.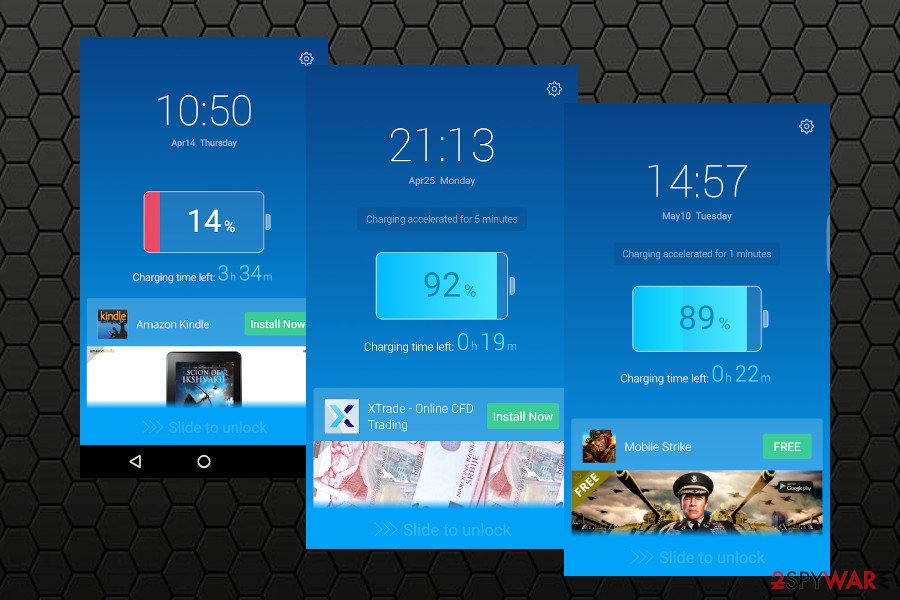 Android Charging Boost virus is triggered by malware that has to be removed to disable the blue block screen charger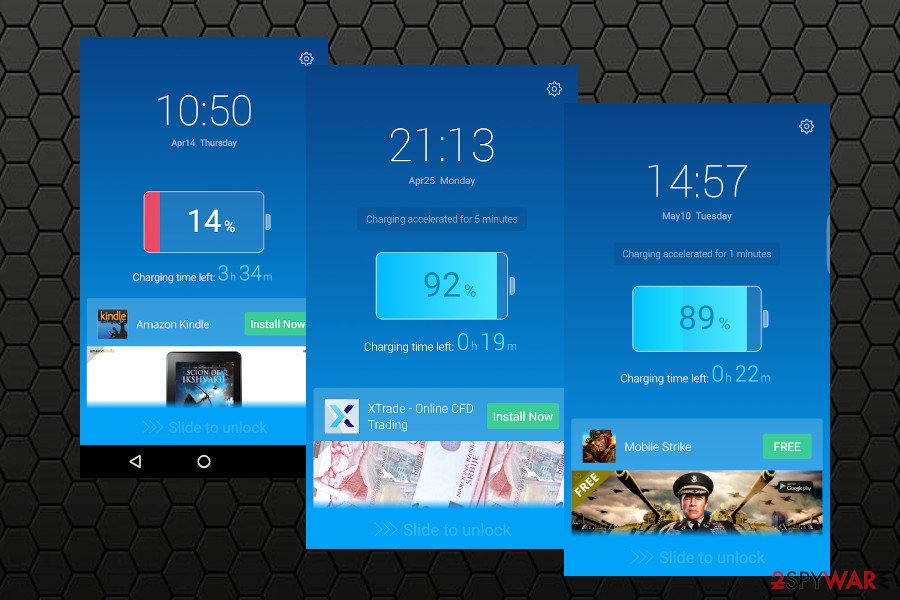 Android Charging Boost virus is triggered by malware that has to be removed to disable the blue block screen charger
An easy Android Charging Boost removal guidance
Android Charging Boost ads on lock screen can be disabled only one way – you have to terminate all potentially unwanted programs from the system. First of all, you should determine which apps trigger the blue screen on the initiate Android's screen.
It's important to remove Android Charging Boost not only due to intrusive advertising. The app associated with this problem may also consume the system's resources, slow it down, track browsing history, etc. Moreover, the content that it brought may be linked to potentially dangerous websites that may trick you into installing another dodgy app.
If it seems that the Android Charging Boost virus is more aggressive than it was assumed at first, do not waste your time and perform its elimination immediately. For this purpose, you can try downloading a professional Android-based security application similar to Reimage Reimage Cleaner Intego from the Google Play Store or another reliable source.
In case you are not allowed to launch the anti-malware tool, reboot your Android into Safe Mode. You can do that using this tutorial:
Press and hold the power button for a couple of seconds until you see a menu. Select the Power off option.
When a pop-up window shows up saying that your Android is going to boot into Safe Mode, select this option and OK.
Alternatively, the Safe Mode environment can be accessed by pressing and holding the Menu, Volume Down, Volume Up or Volume Down and Volume Up buttons.
Once you access the Safe Mode, remove Android Charging Boost virus by launching a professional AV tool, or investigate the Apps folder and delete each suspicious entry.
Last, but not least option to perform Android Charging Boost removal is the factory reset. Although people are not fond of removing all settings and content of the device, there may be no other option if malware has compromised it severely. Upon the reset, you will be able to recover the data using the cloud storage or automatic phone backups.
Click the Settings icon on your Android.
Open Privacy (or Personal) option and find Factory reset (you can also find it as Factory data reset, Backup & reset, etc.).
Select Back up my data opinion to protect it from the loss.
Click Reset device to remove Android Charging Boost virus successfully.
This entry was posted on 2020-06-04 at 02:59 and is filed under Malware, Viruses.