Advanced Driver Updater is the fake system optimizer that cannot perform any of the alleged operations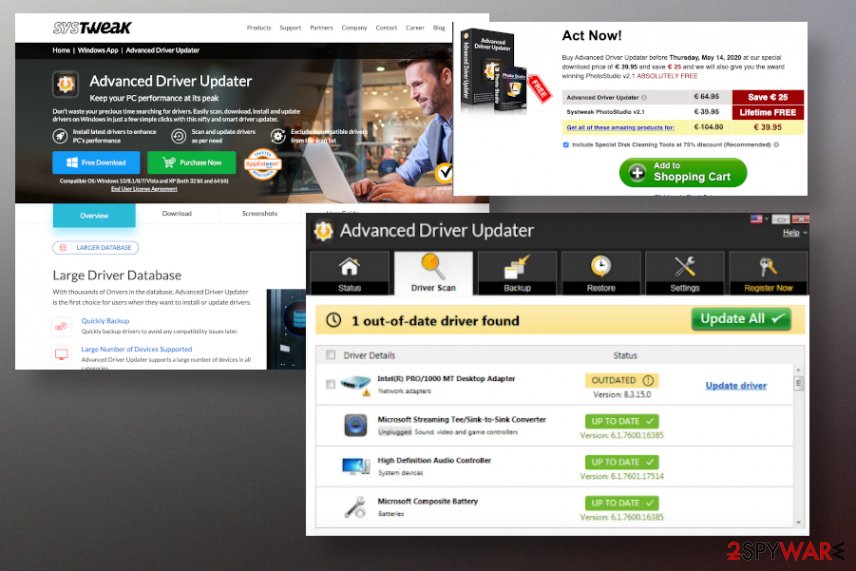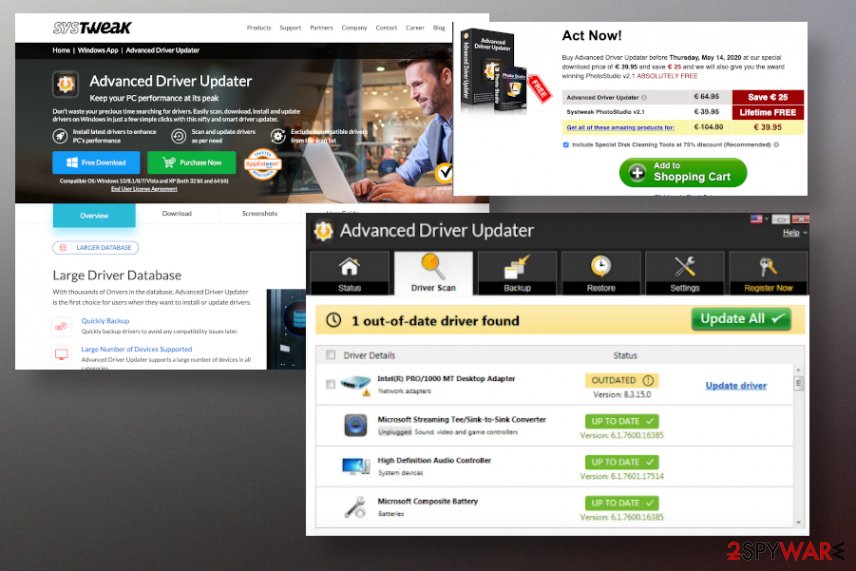 Advanced Driver Updater is the system tool that should backup various drivers, restore and fix affected parts of the applications, and keep drivers in sync with the latest releases. This is nothing but a potentially unwanted application because none of the claims are true and promotional material that surfaces the internet is only created to trick people into purchasing this useless software. There is no reason to trust any of the clams and supposed features, functions of the program. Especially, when the developer of this optimizer Systweak is known for making various tools that can be considered unwanted and deceptive due to all false claims and social engineering methods used to trick people.[ef en-1]
Even though this tool should be focused on drivers and system optimization, but various promotional ads and the official site that promotes and distributes that questionable tools claim that hardware errors, downloads, game performance, and protection feature all included in the functionality of the PUA. These claims and false lists of restoration and security features should make you consider the app as an Advanced Driver Updater virus instead of trusting all the lies. The program relies on the deceptive methods that aim to trick people into thinking that their devices are affected due to issues with drivers or even malware.
Unfortunately, the PUP is mostly delivered without users' consent, so when the alleged scan results show up on the screen people do not know where it came from. All the predetermined issues can only be fixed with the full licensed version of the driver updater tool, but that is pricy. Getting views and purchases are the main goals of these PUP developers.
Name
Advanced Driver Updater
Type
Rogue system tool
Developer
Systweak Software
Price
The program is priced for $64, but often ads and the official site shows promotions, offers, and discounts, so people can fall for the technique and purchase the useless tool on purpose
Distribution
The tool gets promoted and distributed on official developers' sites and spread around with the help of other tools, PUPs. In most cases, the program comes as an additional part of the freeware bundle[1]
Elimination
Advanced Driver Updater removal is not easy since the program can install files and programs on the system with the purpose to keep it running. Anti-malware tools and security programs should help with all these issues and find the initial program to terminate
Repair
The machine can get significantly affected when such a tool runs in the background and changes settings or preferences. So relying on professional PC repair applications or optimizers like

Reimage

Reimage Cleaner

Intego can help is the damage
Advanced Driver Updater tool is categorized as a system optimizer that shows intentional false positives and tries to convince users that devices have problems, and the software suggested for purchase is the one that can solve those problems. Once the program gets installed it ads shortcuts and changes some settings to deliver more needed content.
In most cases, during the installation of Advanced Driver Updater you may see that there is an application included as additional parts, and some of these programs are other PUPs and shady tools. However, when the rogue optimizer is installed without your permission all these downloads happen automatically. You cannot control what happens when the application injects itself without permission.
Advanced Driver Updater affects the machine with these shady operations and schedules all the tasks to tun additional processes. It may not show anything besides those false positives and promotions, but this is possibly related to advertisers and other PUP developers, so pop-ups, banners, or redirects can appear on the screen and out of nowhere.
You can experience other installations on the system besides the Advanced Driver Updater because developers may include other programs in the bundle, so machines get more affected and controlled. Systweak software team is responsible for distributing Advanced Identity Protector, Super TuneUp, TuneupMyMac, Systweak Anti-malware, and many other tools, so don't be sure[raised if you notice them installed or encounter promotional ads for these applications.
You need to remove Advanced Driver Updater or any other program that gets installed without your permission. The best solution for the intruder is anti-malware tools because some AV engines can detect this as a PUP with detection results like PUP.optional.systweak or PUP.optional.AdvancedDriverUpdater. These detection names differ from program to program due particular databases of malware, but once the machine is fully scanned, make sure to remove anything indicated for you as possibly malicious.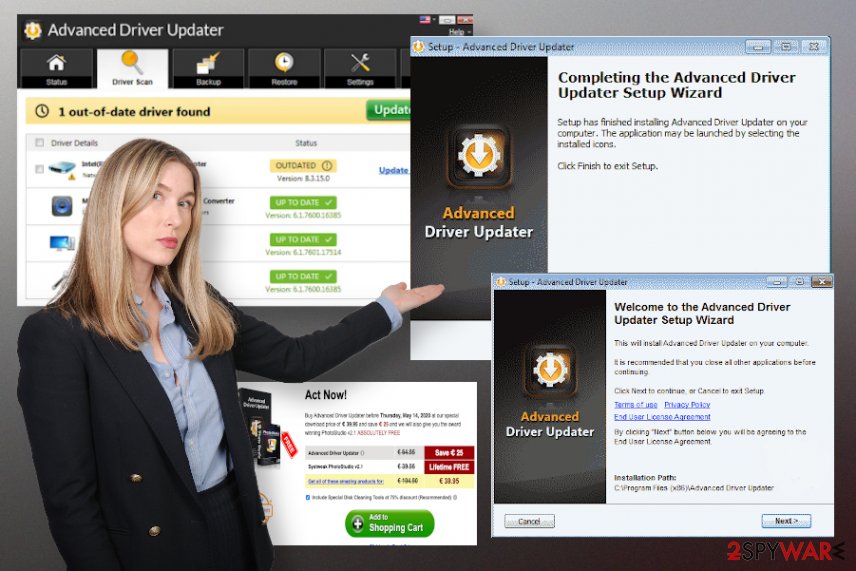 Advanced Driver Updater is the program that can be considered potentially unwanted and related to suspicious services when additional apps get installed without permission.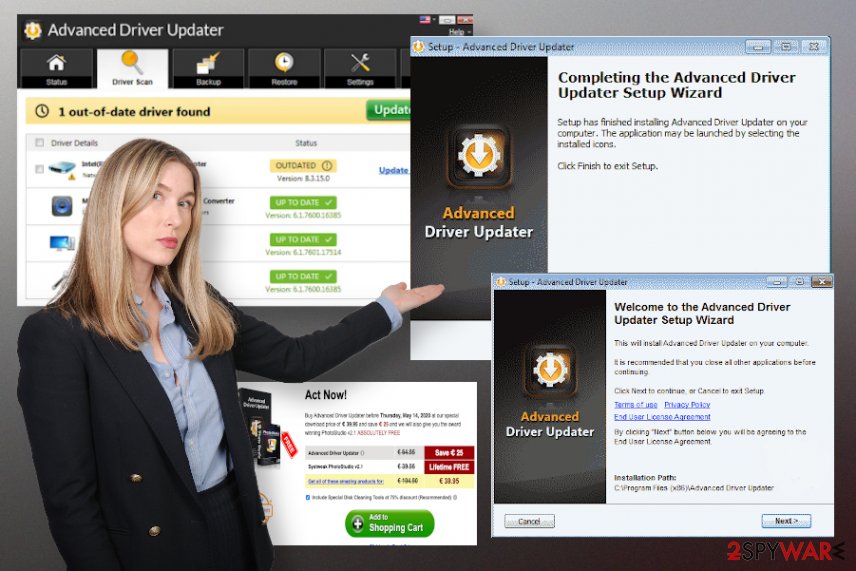 Advanced Driver Updater is the program that can be considered potentially unwanted and related to suspicious services when additional apps get installed without permission.
Since Advanced Driver Updater shows false positives that are scarier than real problems with your machine, you should ignore them and make sure to not agree to anything. The more errors get reported the more misinformed you get, and exaggerated scan reports may lead to serious infections when shady sites get visited or rogue apps installed.
Advanced Driver Updater use various strategies to lure people into installing the program or paying for the advanced tool. You cannot realize that invasion of PUP happened until the scanning procedures on the computer. Unfortunately, there is nothing valuable about the program. Otherwise, when the PUP claims to fix issues it can only alter registry or startup preferences, clean some junk files.[2]
But in many cases, such interference with the registry and other programs or functions keeps the tool more persistent and keeps the user from achieving the best Advanced Driver Updater removal results. These alterations can even damage the machine permanently, so rely on PC repair tools to find and fix files affected or deleted by the threat. Reimage Reimage Cleaner Intego can help you with that.
When you try to exit the site or go back to the first page, an offer with a discount appears, the page tries to trick people into purchasing the tool for cheaper by claiming to give the best deal or even free bonuses. This is how people fall for the scam and install useless software, in most cases. In addition, Advanced Driver Updater promotional ads and other pop-ups trigger these downloads automatically when users keep clicking on them.
Advanced Driver Updater gets bundled with other programs, and those shady installers do not adequately disclose all the apple included besides the tool. Note that this program can clear needed files instead of junk, so experts[3] note to act as soon as possible, so the machine does not get damaged significantly. Get an AV tool as soon as your device gets slower due to questionable pop-ups and scans.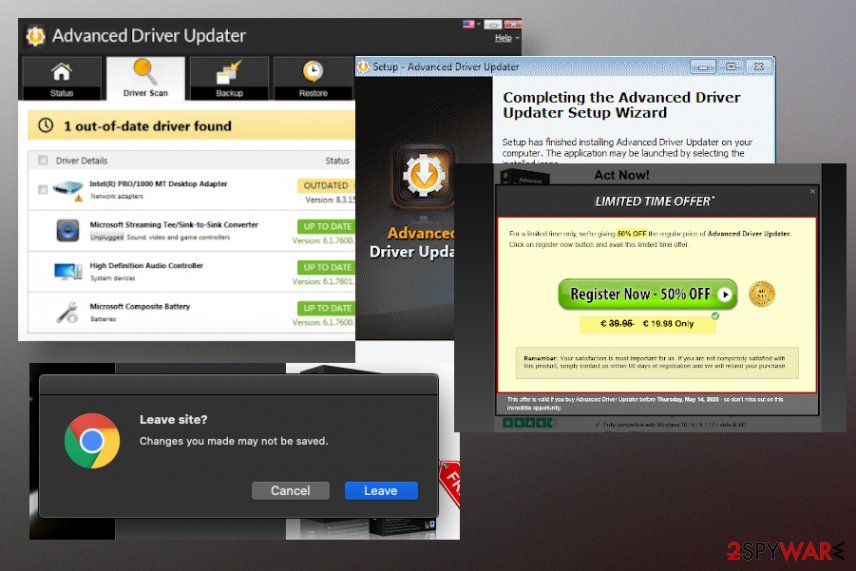 Advanced Driver Updater is the deceptive tool that tries to trick people into purchasing the licensed version that is also useless as the free version.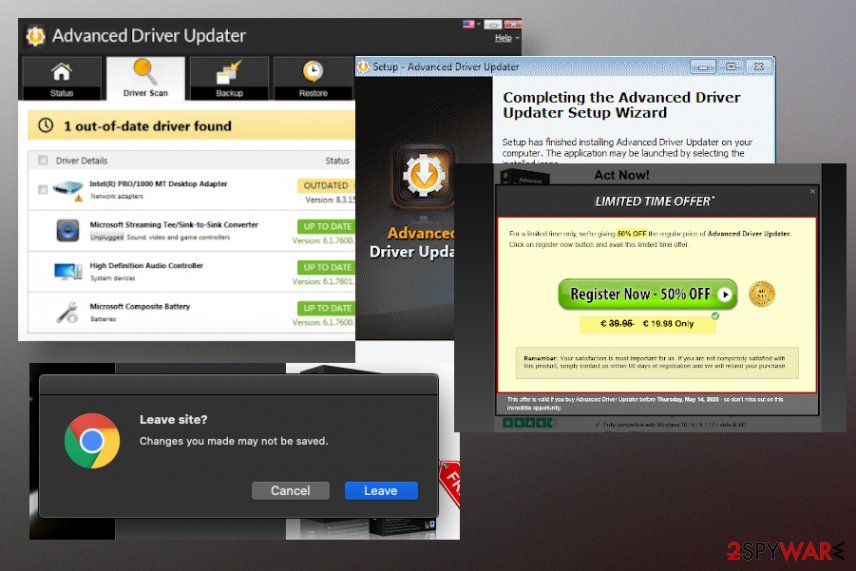 Advanced Driver Updater is the deceptive tool that tries to trick people into purchasing the licensed version that is also useless as the free version.
Freeware downloads include optional installs
Deceptive sites and misleading advertisements often promote useless programs, so you should pay attention to various details like reliability of the source, for example. If you get anything from the internet, it first should be the source you can trust and rely on the legitimacy. Unfortunately, freeware download sites often are not reliable due to relations with advertisers, commercial content creators and ad-supported pages.
When you choose official sites for the distribution, you can be more sure that tools are legitimate and not malicious. However, PUPs also have official websites, promotional ads. Read licence agreements, EULA and privacy policy sections of such sites before relying on the promoted software.
Choosing Advanced or Custom options during installations can help you control all the downloads because you can deselect applications from the list easily. Keeping proper anti-malware tools active on the system can also help with unwanted infections when these tools can scan any files before installation.
Get rid of the Advanced Driver Updater virus while the machine is not damaged yet
Advanced Driver Updater removal gets more difficult over time because the rogue tool manages to add other files or applications on the machine, so various processes get affected and interfered with, including security tool performance. When the startup preferences and registry entries get changed other applications get disabled often.
So when you decide to remove Advanced Driver Updater format the system, your AV tool may not even run as supposed to. Rely on anti-malware tools and try to scan the system fully to find all the traces of the shady program, files associated with these processes and symptoms.
Advanced Driver Updater virus can inject other files and programs, those cleaning features that the tool offers means that application may delete important files, so optimisation and PC repair programs are needed to clear the damage of the PUP. Run a tool you trust and replace corrupted files with proper copies.
You may remove virus damage with a help of Reimage Reimage Cleaner Intego. SpyHunter 5Combo Cleaner and Malwarebytes are recommended to detect potentially unwanted programs and viruses with all their files and registry entries that are related to them.
This entry was posted on 2020-05-13 at 05:10 and is filed under System tools, Viruses.