Ads by SaleItCoupon – an advertising tool that loads sponsored offers while visiting popular e-shopping platforms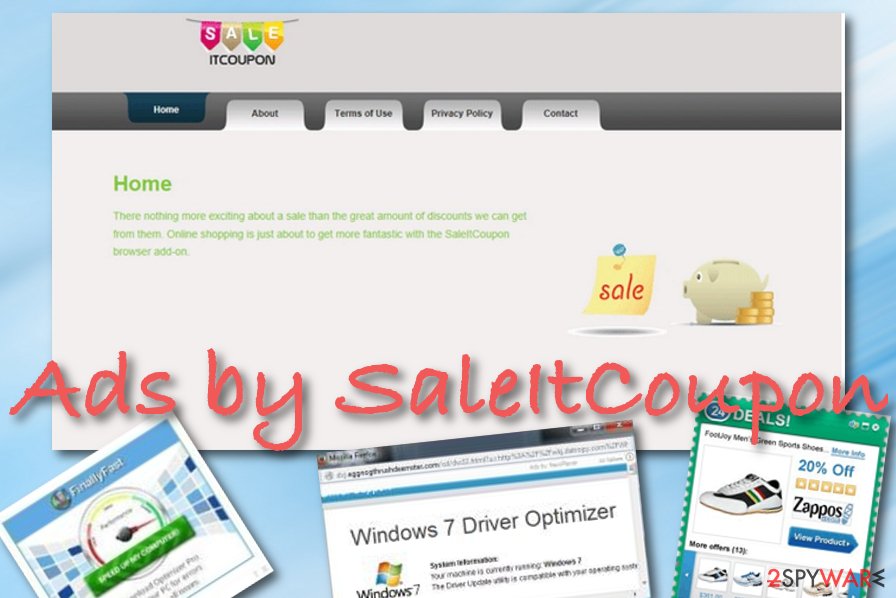 Ads by SaleItCoupon is an advertising program that loads an excessive amount of pop-ups while visiting e-shopping platforms such as Amazon, eBay, or AliExpress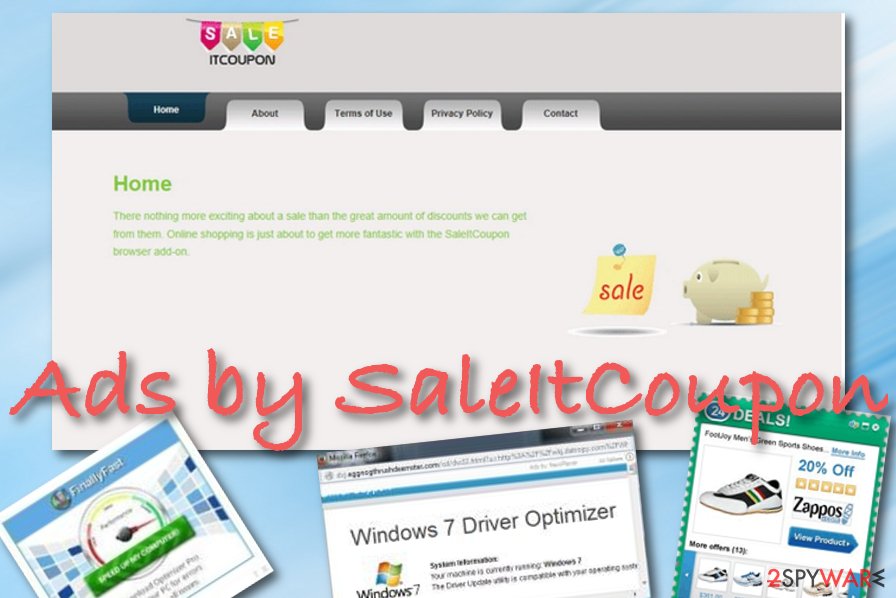 Ads by SaleItCoupon is an advertising program that loads an excessive amount of pop-ups while visiting e-shopping platforms such as Amazon, eBay, or AliExpress
Ads by SaleItCoupon is categorized as an adware program that displays coupons and sales offers related to your search products. When the potentially unwanted program infects a particular web browser, the app's settings might get changed. There is a possibility that the adware might hijack the homepage and new tab URL. However, the most accurate symptom of this infection is constant advertising that the user receives while browsing on e-shopping websites such as Amazon, eBay, and AliExpress. Ads by SaleItCoupon start appearing during almost every browsing session and end up hardening the entire surfing process by delivering pop-ups, pop-unders, in-text ads, sales coupons, banner ads, and similar material.
Adware programs such as Ads by SaleItCoupon pose less harm than advanced malware but these programs can be very intrusive and start annoying even the most patient person. Despite the advertising activities that will bother the user every time he uses the infected web browser, the PUP[1] can start initiating redirecting sessions to sponsored websites so you might not be able to get rid of intrusive redirects too! However, non-personal data collection also falls in the functionality of adware programs and is quite annoying when you realize that the purpose of it is to gather monetary income.
Name
Ads by SaleItCoupon
Type
Ad-supported application
Category
Potentially unwanted program
Symptoms
Changing web browser settings such as the homepage and new tab URL, delivering intrusive advertisements while visiting e-shopping websites such as Amazon, eBay, and AliExpress, initiating redirects to sponsored domains, collecting non-personal information that is related to the user's browsing sessions
Delivery
Potentially unwanted programs usually get delivered through bundled products such as download managers, players, and PDF converters that are downloaded from third-party sources such as softonic.com, download.com, soft32.com, and cnet.com
Elimination
If you are looking for a way to get rid of the adware virus, we recommend downloading and employing reliable antimalware software that will take care of the program in a few minutes. Also, you can try eliminating the app with the help of manual step-by-step instructions that are added to the end of this article
Fix software
If you have discovered any compromisation on your computer system, you can try fixing the altered areas with a repair tool such as

Reimage

Reimage Cleaner
SaleItCoupon virus travels with the help of stealth distribution techniques and ends up on the user's computer before the owner even recognizes it. The adware can drop suspicious processes in the Windows Task Manager or install a questionable application in the Programs section. If it is a Mac computer that you are using, there is a chance to see unexpected apps and folders in the Applications section via Finder.
Even though SaleItCoupon does not operate as dangerous malware, that does not mean it cannot bring any compromisation. Regarding this fact, you might discover some altered entries in your Windows registry that might have been touched by the potentially unwanted program. However, if you find these and more areas of your device compromised, you might have a chance by repairing them with a tool such as Reimage Reimage Cleaner .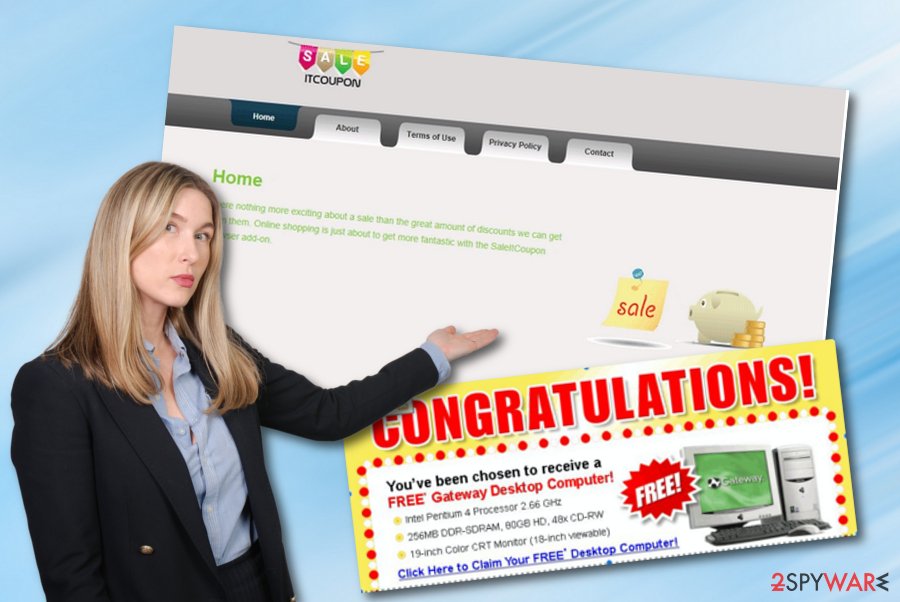 SaleItCoupon – an adware app that can modify major web browser settings such as the homepage and new tab URL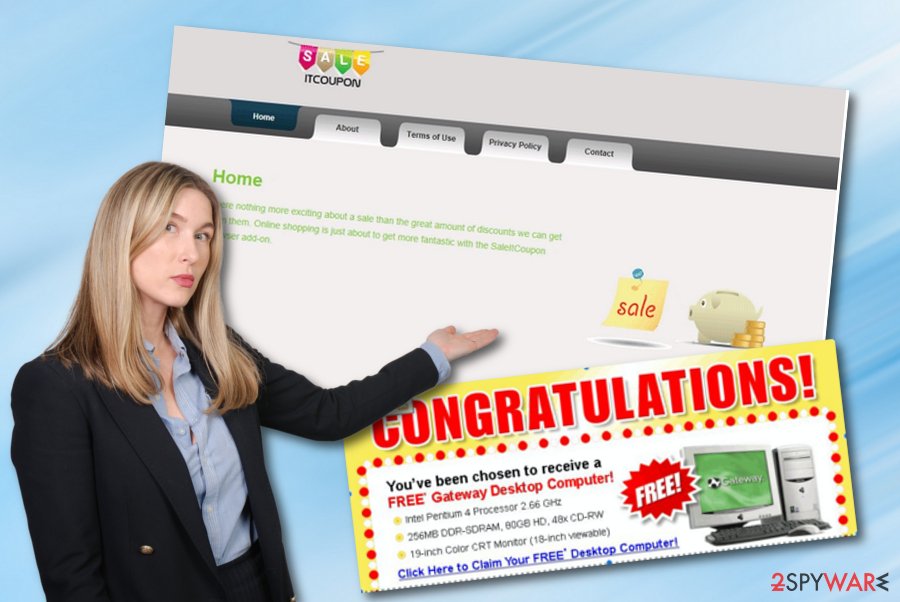 SaleItCoupon – an adware app that can modify major web browser settings such as the homepage and new tab URL
The main goal of SaleItCoupon is to display an entire load of advertisements that would receive as many clicks as possible. This way the developers can earn from the pay-per-click[2] marketing strategy. Most of the time, you will start receiving various sales offers and coupons while searching for products on popular e-shopping sources such as Amazon, eBay, and AliExpress. However, the adware might still drop different adverts too.
Ads by SaleItCoupon can end up promoting unreliable security utilities and similar rogue protection services. You should never get too interested in what the program offers you as this way you can be lured into paying an inadequate price for a completely useless product. Nevertheless, the app might produce various fake prize claims or ask to fill in some private data in provided surveys that can lead to sensitive information exposure in the future.
Another feature that Ads by SaleItCoupon might have is the redirecting possibility to other domains. The app can be programmed to deliver the user to sponsored websites that might include attractive-looking offers and deals. However, in other cases, you can get redirected to a potentially malicious website and accidentally catch a dangerous malware infection such as a Trojan horse or a ransomware virus.
To add, SaleItCoupon can include tracking objects such as HTTP cookies, beacons, or pixels into your web browsers such as Google Chrome, Mozilla Firefox, Internet Explorer, Microsoft Edge, and Safari. This way the program can spy on your browsing sessions and record non-personal information such as recently visited websites, hyperlinks and adverts accessed, search queries, bookmarks saved, your IP address, browser type, etc.
Usually, developers gather such information to share it with other parties for income. Also, they use it for developing their targeted advertising campaigns that would look more attractive to potential visitors. Another thing that SaleItCoupon might do is compromise web browser settings such as the homepage and new tab URL bar. Nevertheless, these changes can be reversed only by entirely wiping out the adware program.
If you want to get rid of all the annoying activities that are caused by the adware and bring your web browsers back to their previous states, you should remove SaleItCoupon with the help of antimalware software or by using the manual step-by-step guide that has been provided at the end of this article. Also, do not forget to search your computer for possible compromisation and try fixing the altered areas with a reliable repair tool.
The technique you are going to use for SaleItCoupon removal is all up to you. However, if you are a beginner with computers or have run into a lack of time, we recommend relying on automatic tools instead of trying to make a change on your own but if you think of yourself as an advanced user, you can definitely try the manual technique. Just do not forget to clean and refresh web browsers too as they might be filled with bogus extensions, plug-ins, and add-ons.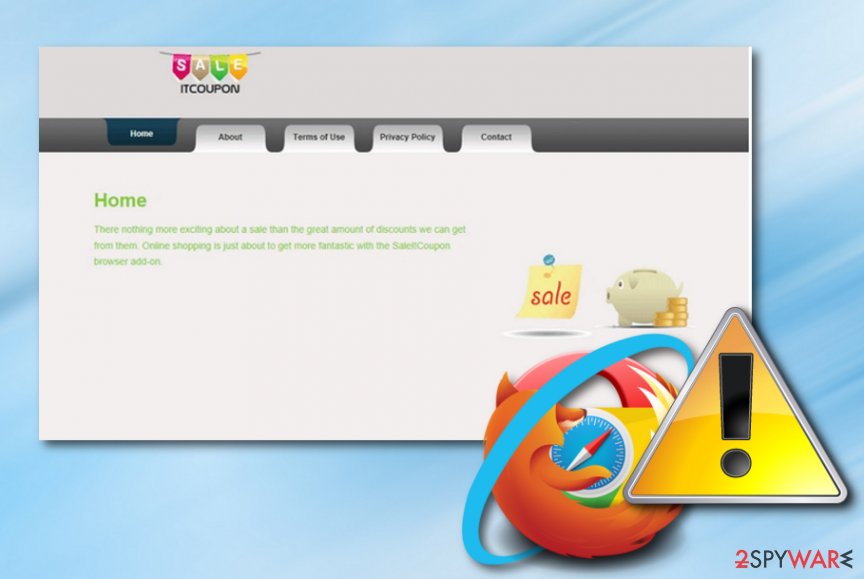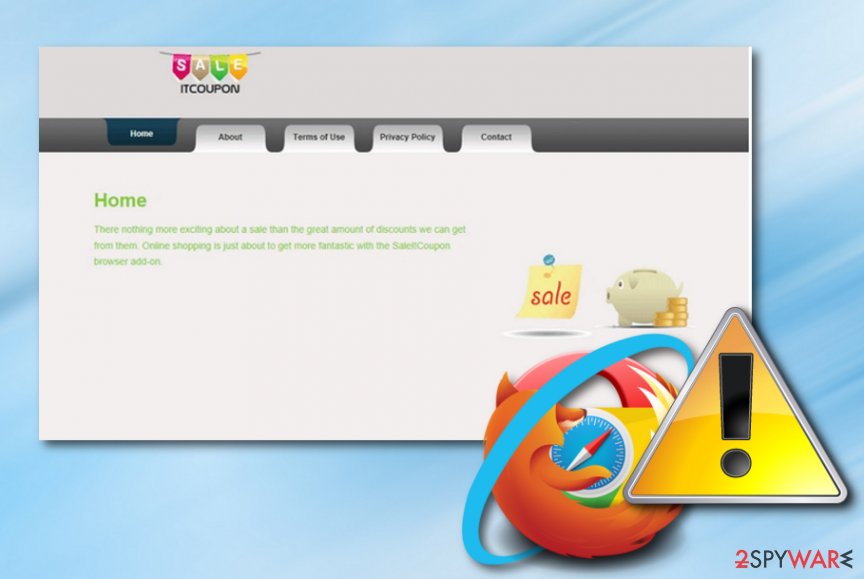 Software bundling brings adware programs to the surface
Potentially unwanted programs such as adware usually try to slither into the user's PC unnoticed via other free programs an initiate suspicious activities behind the user's back. For this reason, you have to be more careful when downloading free software from the Internet if you do not want to install adware and similar suspicious programs. If you are one of those users who do not pay much attention to the installation steps of your new programs, you can easily allow additional programs to be added to your computer.
A lot of free programs, even well-known ones, are distributed in a bundle with third-party advertisements because their developers get paid for this. Be extremely careful when downloading such programs as download managers, PDF creators, video streaming software, music players, browsers and so on that can be put up for delivery on secondary websites such as softonic.com, soft32.com, cnet.com, and download.com
Many bundles[3] are installed by default unless you deselect an option indicating them. For this reason, you are highly recommended selecting the Custom or Advanced installation instead of Quick or Basic one and check out every step before clicking on the "next" or "I agree" button. However, if you are too late and the adware has arrived at your device, be prepared to experience unwanted activities until you get rid of the app.
Remove SaleItCoupon virus from your computer
If you want to avoid all unwanted activities that are brought by adware programs and reverse your web browsers back to as they were before the adware attack, you should take care of SaleItCoupon removal as soon as you find the potentially unwanted program lurking on your computer system. For this process, you can try employing automatic software that would be able to get rid of the cyber threat within a few minutes.
However, if you want to remove SaleItCoupon on your own, you can do it too. Note that this type of task requires some of the user's time and attention. If you think of yourself as a moderate user, you can try completing the manual method. Below we have provided some step-by-step instructions that should help you to clean operating systems such as Windows and Mac and web browsers such as Google Chrome, Mozilla Firefox, Internet Explorer, Microsoft Edge, and Safari.
According to technology specialists from LesVirus.fr,[4] you have to get rid of all of the components that were brought by the adware program, including files, processes, extensions, additional apps, otherwise, the PUP might appear again.
You may remove virus damage with a help of Reimage Reimage Cleaner . SpyHunter 5Combo Cleaner and Malwarebytes are recommended to detect potentially unwanted programs and viruses with all their files and registry entries that are related to them.