RoyalAds is the program that shows various pop-up ads and banners, coupons and deals as a side effect of the PUP infection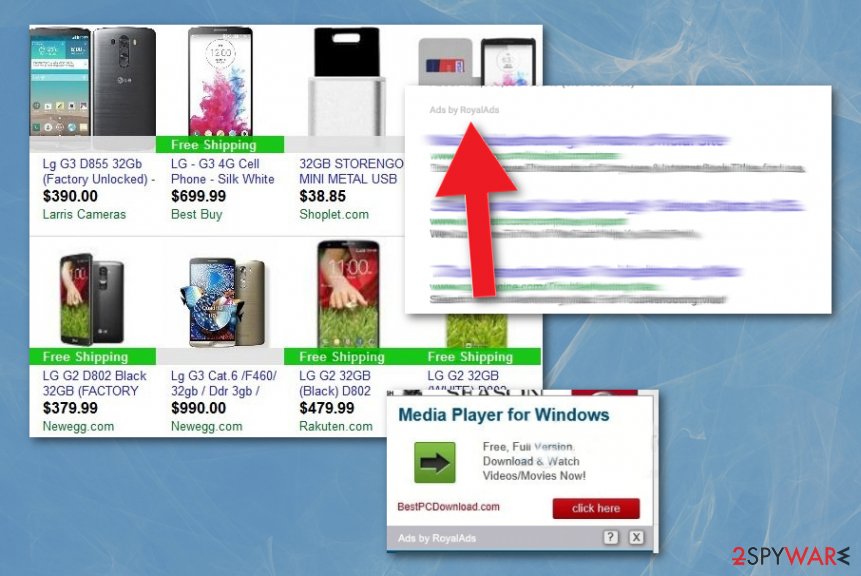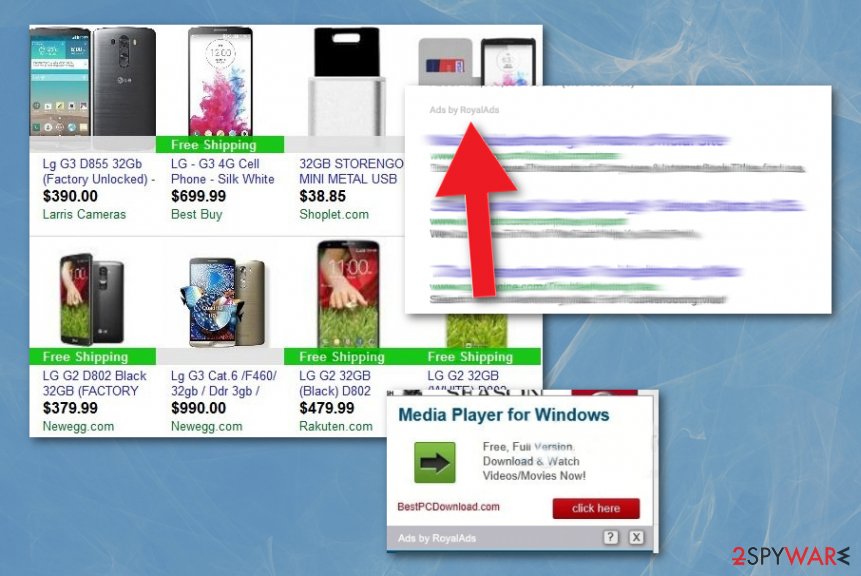 Ads by RoyalAds is the potentially unwanted program that displays intrusive advertisements and can even execute fake updates, software installations, and other redirects when the user clicks on the commercial content delivered on the screen. If you encounter Ad by RoyalAds pop-up and other material marked with this adware name, you should immediately search for ways to clean the machine fully, so al the intruders get removed. It is possible that pop-ups and banners came out of nowhere, and there is only an attempt to get your device infected with such adware when you click on misleading ads.
However, continuous RoyalAds redirects and pop-up windows indicate that potentially unwanted program is already running on the machine and leading to these symptoms to control the traffic and ensure that affiliated sites are the ones that you visit. This is a typical adware-type intruder that exposes to commercial content and causes tons of reroutes, pop-up windows, layovers, and so on, but doesn't show any programs or files that can be found on the system and eliminated fully.
This makes the shady Ads by RoyalAds virus more persistent and dangerous since the material you visit is involved in malvertising[1] and other advertisers' campaigns. Ad-supported sites have a big issue regarding the displayed material because cookies and other data tracking methods get used on every site and pop-up pretty much.
Name
RoyalAds
Type
An adware-type intruder that comes from the potentially unwanted program category
Symptoms
Commercial content in a banner, pop-up, redirect form appears on the screen, and various pages get injected with these advertisements, so promotional material is displayed to you and every click on such pop-ups or redirected sites triggers more reroutes and system issues, exposure to possibly malicious online content
Danger
Advertisers have data tracking techniques and expose the victim to various shady sites. No one can guarantee that those redirects are safe and that the content is not dangerous or even malicious to you or your device. Data tracking and collecting can also lead to privacy issues
Purpose
Advertisements, pop-ups, promotional material creates redirects and shows the user possibly harmful content. The program reroutes online traffic to generate views and page visits on sponsored and affiliated sites
Distribution
Freeware installations include various PUPs and other shady content to the setups as additional downloads, so when the user skips through important steps all the programs get loaded automatically. Other promotional ads on deceptive sites also can trigger the installation of unwanted and malicious applications
Elimination
RoyalAds removal process requires additional help from professional anti-malware tools because it is involved in various PUP delivery campaigns and can get installed alongside browser-based threats and malicious software. AV tools are the ones that can find and delete all of them
Repair
You should go through the settings of the system and web browsers, to tackle the alterations and changes made by the PUP. However, such interference can cause additional issues. Rely on

Reimage

Reimage Cleaner

or a similar repair tool and allow the software to do its job
RoyalAds is also a browser extension that will supposedly enhance your browsing experience. In reality, however, it will do no such thing as it will display all sorts of sponsored ads on your browser and make it difficult to browse efficiently. It is not surprising that the program is classified as adware and a potentially unwanted program.[2] There are at least several reasons for that.
First of all, if it appears on your computer, you will soon notice that your Internet Explorer, Google Chrome or Mozilla Firefox browser is crammed with various sponsored ads, deals, offers, banners, pop-ups, plug-ins, add-ons, underlined words in texts, coupon boxes and fake prompts to update your system or install a particular program because your computer is infected. However, it is not enough to exit the shady content on the browser by closing the window, to remove RoyalAds fully. You need professional anti-malware programs and system software like Reimage Reimage Cleaner to achieve the full cleaning of the device.
Therefore, you will get nothing more than scares and fake promises, promotional content. You should never rely on such ads and avoid clicking on them at all costs. However, sometimes it may be hard to avoid it since these RoyalAds ads are rather intrusive and annoying.
They will be popping up in new windows and tabs, and it will be difficult for you to avoid it. What is more, RoyalAds virus itself and other advertisers install cookies that track your browsing activities, and you might end up sharing details about your browsing habits with third parties.[3]
Such things are shared in order to provide the sponsors with information that you may find appealing and worth clicking on. Therefore, do not let the creators of these ads outsmart you and lure you into clicking on them. Because of this reason, you should never trust a program generating an incredulous amount of ads labeled as "Ads by RoyalAds", "RoyalAds Ads", "By RoyalAds", "Powered by RoyalAds" or "Brought to you by RoyalAds", nor you should visit pages that are OK with such method of promotion.
The best thing you can do with such adware is to delete it from your computer as soon as possible. You can achieve the best results if you delete this program with some trustworthy anti-spyware. Also, a tool like Reimage Reimage Cleaner could help with performance issues caused by the PUP alterations in system folders. Keep the anti-malware tool that you use for RoyalAds removal since it will ensure the full protection of your system.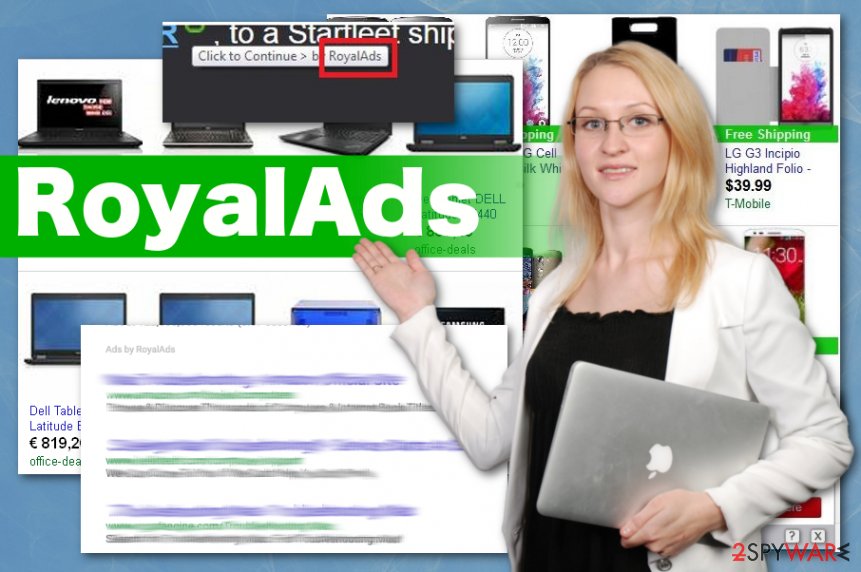 RoyalAds is the program that injects Ads by RoyalAds content on searches via web browser and on commonly visited pages that normally don't have advertisements.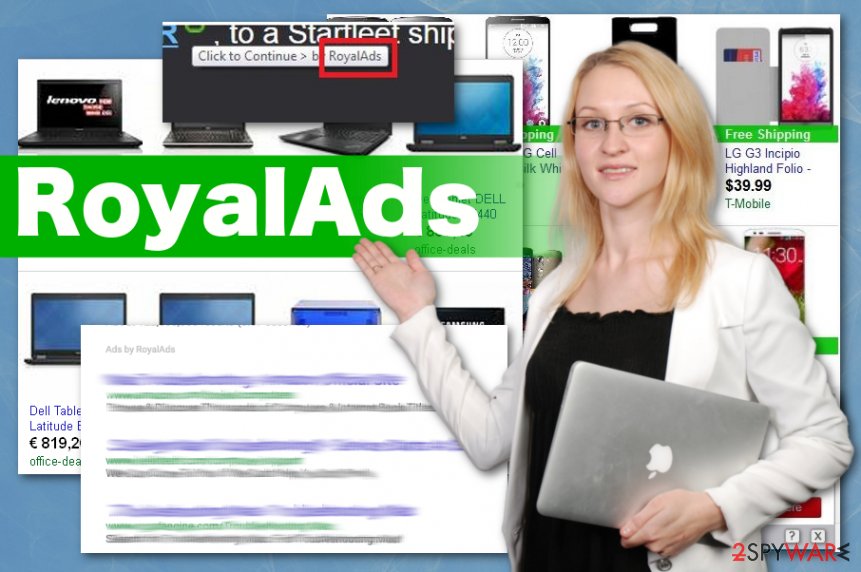 RoyalAds is the program that injects Ads by RoyalAds content on searches via web browser and on commonly visited pages that normally don't have advertisements.
Unwanted programs appear out of nowhere
You should note that adware exploits the so-called bundling method and relies on online promotions to spread malicious products around the globe. Since no one would like to download a program flashing ads on their browser willingly, distributors of such intrusive programs bundle their applications with more popular and appealing programs like PDF converters or media players.
Therefore, you should always check advanced and custom options provided in the installation process as they might hide potentially unwanted programs like browser hijackers and adware-type programs that might do more harm to your computer than you can imagine. When you do so, you can control the list of programs that get downloaded on your machine. Anything suspicious or questionable should be unchecked from the list when you get to see the full installations setup list.
Get rid of RoyalAds virus and clean the questionable browser applications
You can remove RoyalAds as any other program through Control Panel. However, this will not remove the viruses or other potentially unwanted programs that could have ended up on your computer or virus damage caused in system folders. Therefore, delete these shady programs and perform a full system scan with a reputable anti-spyware tool.
AV programs are based on detecting malicious behavior and purpose of applications, files, programs, so your device gets checked for shady programs and potential intruders like RoyalAds virus and similar threats. You should rely on the anti-malware tool because this way, your device gets cleaned quickly.
When you perform RoyalAds removal like this, you can go ahead and focus on repairing issues with the system that got caused by the PUP interference and all the changes in settings. When you know that the machine is virus-free, you can go through the registry and other more essential folders with a PC repair tool that searches for parts that need fixing.
You may remove virus damage with a help of Reimage Reimage Cleaner . SpyHunter 5Combo Cleaner and Malwarebytes are recommended to detect potentially unwanted programs and viruses with all their files and registry entries that are related to them.