Ad Network Performance virus – a piece of adware that can load fake prize claims and misleading offers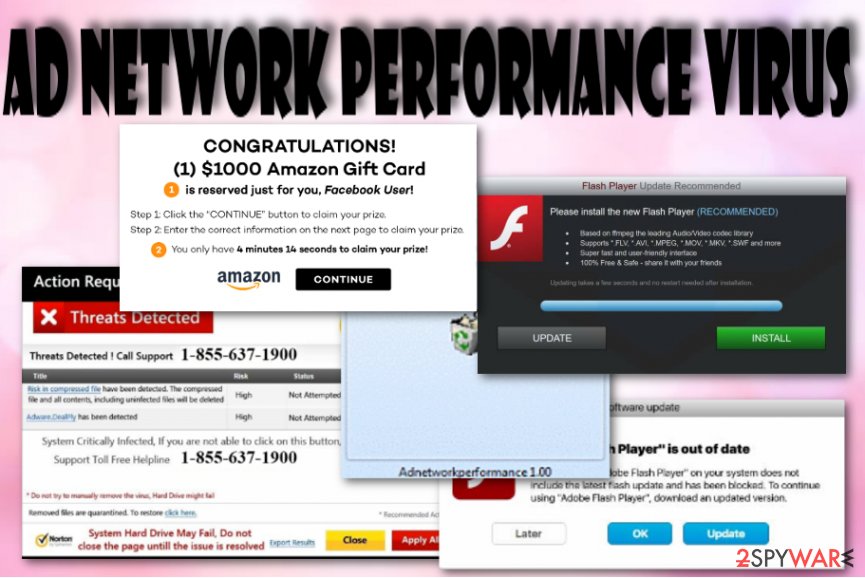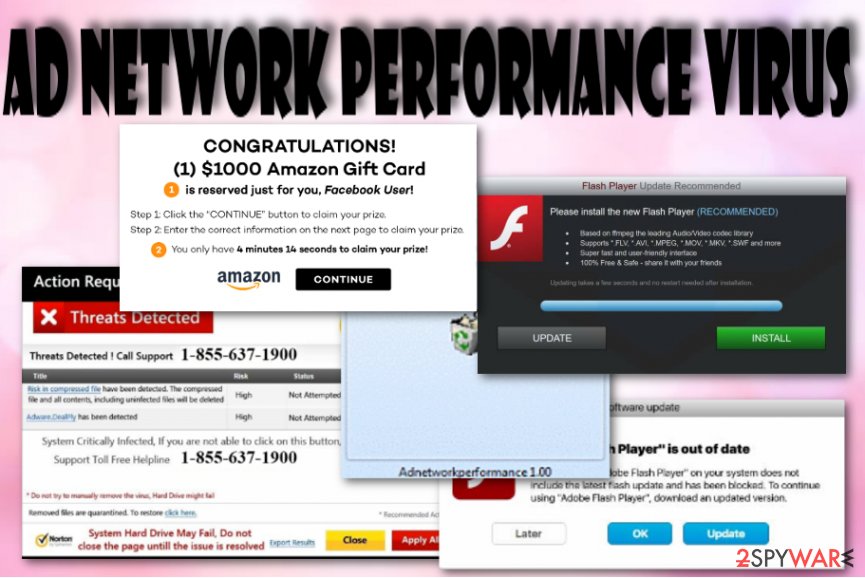 Ad Network Performance virus, closely related to Adnetworkperformance.com, is a piece of dubious software that gets the user involved in advertising campaigns. Considered to be a PUP[1] due to the deceptive infiltration techniques employed, the app is capable of appearing on both Windows and macOS computers and hacking web browsers such as Google Chrome, Mozilla Firefox, Internet Explorer, Microsoft Edge, or Safari. Ad Network Performance adware can include bogus extensions, plug-ins, add-ons, and toolbars to your web browsers and initiate some setting changes on the default homepage and new tab bar.
However, the worst part about Ad Network Performance is its intrusive advertising that you are very likely to see and feel while infected with this threat. Mostly, adware apps provide you with various scams, surveys, fake rewards, false software updates, misleading deals, and offers. The main goal of the developers is to collect cost-per-click[2] income whenever a person steps on a provided ad and they do not really care if the shared content has true value or not. To continue, we are going to talk about how the bogus adds can affect your browsing quality, put your finances and personal information in danger, cause the risk of potential malware installations, and so on.
Name
Ad Network Performance
Also known as
Adnetworkperformance.com/Ad Network Performance virus
Type
Adware application/potentially unwanted program
Targeted apps
This suspicious product can appear on any type of web browser application, including Google Chrome, Mozilla Firefox, Internet Explorer, Microsoft Edge, and Safari
Tasks
The main goal of this adware program is to drop advertising content straight on the user's computer screen and convince the user to take suspicious deals and offers for real. Also, the PUP can initiate redirects to affiliate sources some of which might appear to be malware-laden. Furthermore, the adware can collect non-personal data related to the user's browsing history and share it with third-parties later on
Distribution
The most popular way of getting infected by adware is through a deceptive strategy called "software bundling" when the PUP comes in a package of free or shared software. Also, you can accidentally download adware by clicking on an infectious ad or hyperlink that occurs while visiting unsecured sources
Removal
You can get rid of the adware program by employing reliable software or you can try terminating the threat from your computer and web browsers with the help of our step-by-step guidelines that have been added to the end of this article
Fix software
If you have discovered some compromisation not only on your web browsers but also on your computer system, try diminishing the alterings by downloading a reliable fix tool such as

Reimage

Reimage Cleaner

Intego
Ad Network Performance virus can load you with fake software updates such as Adobe Flash Player. When you have this PUP installed on your computer, you are likely to see random notifications to update your products while browsing the Internet sphere. You should not take such urges for granted and rather check the program's official website to see if there truly were some upgrades released recently.
Furthermore, Ad Network Performance virus might show fake technical support notifications that claim about a non-existing virus infection lurking on your computer. This way the hackers seek to make you call the given phone number. When dialed, you might be asked to provide some personal information that can lead to identity theft or be pushed to purchase a useless fixing utility that would appear to be a complete waste of money.
However, this is still not all that Ad Network Performance virus can bring to you. You might also be approached with fake surveys that offer to win a particular prize. Here, you can be encouraged to transfer a small starter fee for receiving the big reward which, as you might have already notice, does not exist. Also, such scams can try to swindle some private data such as your birthdate, residence place, mobile phone number, etc.
When Ads by Ad Network Performance start bothering you frequently, you will likely notice that this affects your browsing quality, i.e. slows down the entire surfing process, forces browser windows to crash. As a result, you will get annoyed with ads and struggles every time you try to complete a browsing task. Besides, this can affect your computer too as it might experience general sluggishness too.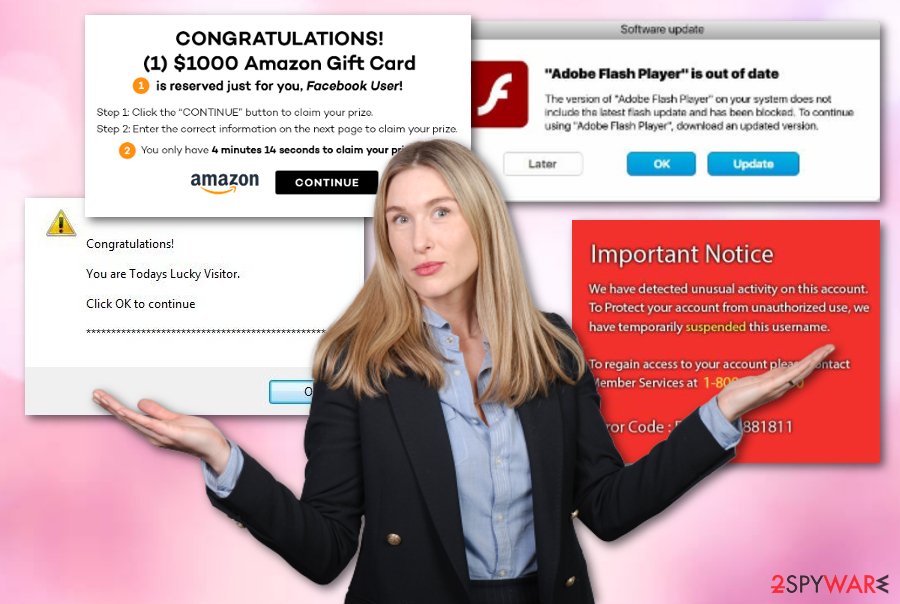 Ad Network Performance virus is an adware app that can load users with misleading deals, offers, scams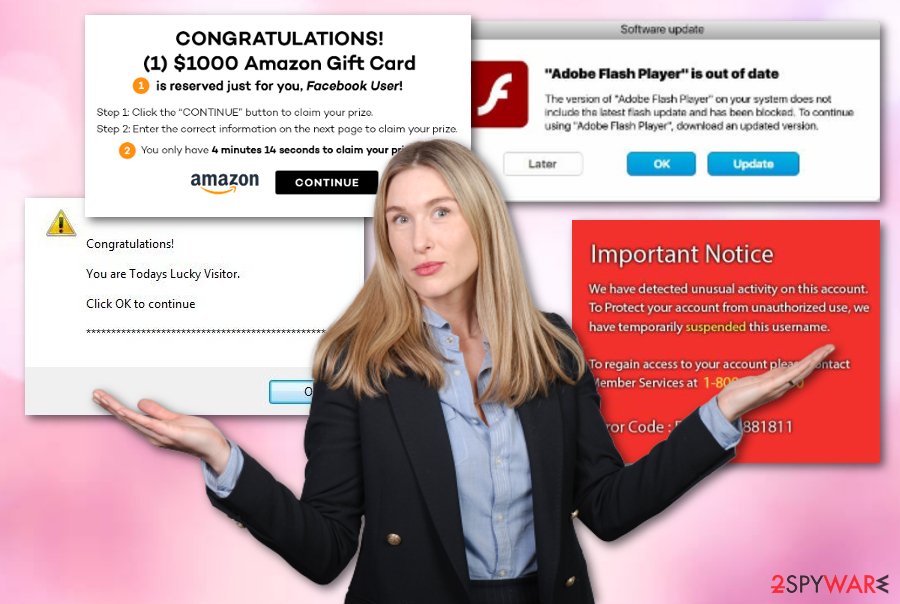 Ad Network Performance virus is an adware app that can load users with misleading deals, offers, scams
Another thing that can be initiated by notifications from Ad Network Performance virus is rerouting to affiliate sources. By clicking on an ad, you might be taken to a developer-sponsored network where you will be provided with additional offers and deals. However, the worst part about this redirecting activity is landing on a potentially malicious website where you might have to deal with notorious malware such as ransomware viruses or trojans.
If you are already wondering how to remove Ad Network Performance from your PC and web browsers, you are having very good thoughts as there is nothing positive about adware. Besides the mentioned activities, the app can also install browsing cookies, pixels, or beacons[3] to stalk on your browsing sessions and online habits. The program might capture data such as pages visited, links clicked, bookmarks saved, your IP, browser type.
Afterward, the collected information might be shared with other parties for monetary income or used for benefitting in targeted advertising campaigns. If you do not like the idea of being stalked, receiving tons of ads, getting redirected to odd domains, experiencing browser modifications, you should opt for Ad Network Performance virus removal right away. This is the only way to free your PC and browsers from the adware.
Gladly, there are even two ways that can help you to remove Ad Network Performance virus from your machine. The first one is called the automatic method where you will need to download and install reliable antimalware software. By running such an app, you can be sure that your computer has been cleaned fully. Also, you can try removing the threat by yourself by checking out the step-by-step instructions that are added to the end of this article.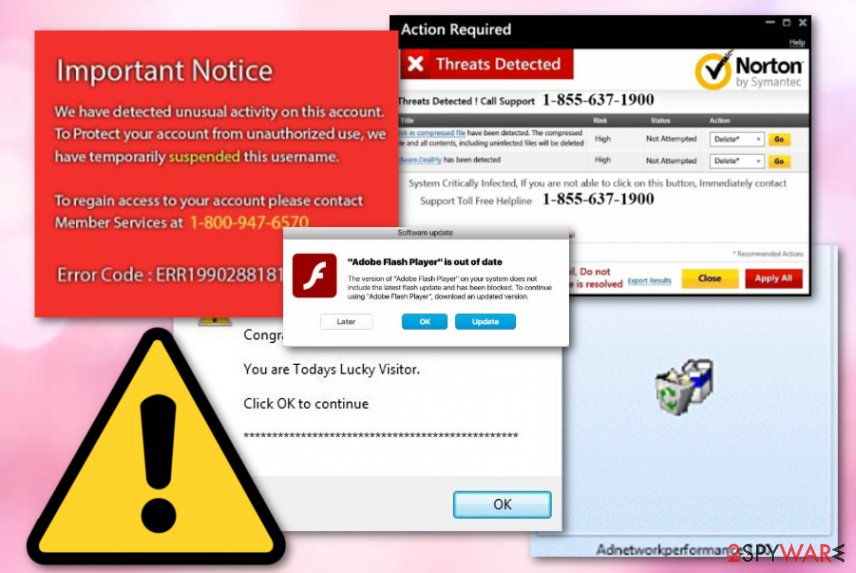 Ad Network Performance virus is a PUP that travels with the help of software bundling and places itself on Windows or Mac computers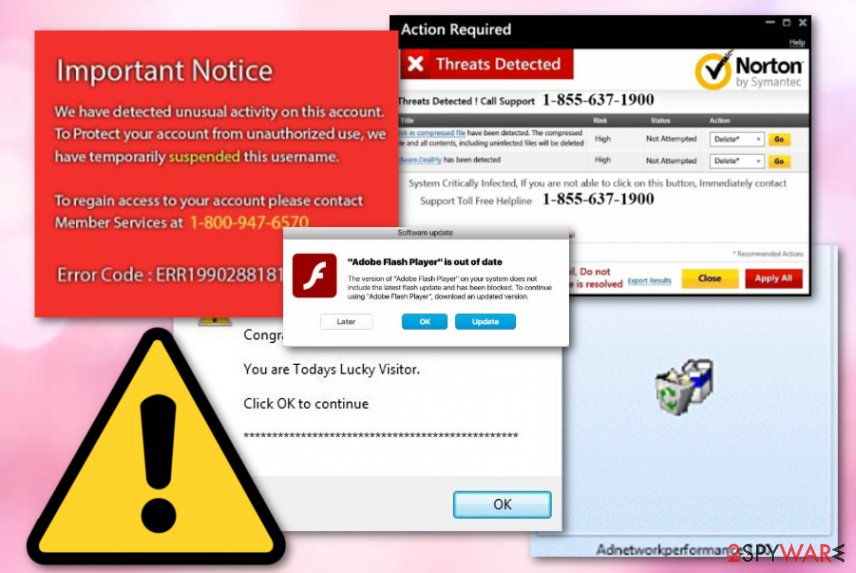 Ad Network Performance virus is a PUP that travels with the help of software bundling and places itself on Windows or Mac computers
Keep adware away from your computer and browsers
If you cannot remember installing a particular potentially unwanted program, it probably entered your computer system along with another free program you have installed. Therefore, we would like to advise you to be more careful when installing new software on your PC. Developers of PUPs target to spread their products as effectively as possible; therefore, they use the software bundling[4] strategy.
They add these PUPs to other programs disguised as "free additions" or "recommended downloads." Unfortunately, you can find out about such additions only by selecting Advanced or Custom installation settings. Please take note that the majority of PC users rely on dubious Default/Standard options while in reality these installation settings automatically install all additional components added to the primary program. Please choose our recommended settings and opt such shady additions out.
Additionally, you should prevent yourself from clicking on unknown hyperlinks and adverts that show up when you browse the Internet as some of them might initiate the installation process of the PUP. Also, do not install any questionable-looking updates as there are many fake upgrades lurking on the Internet, for example, Adobe Flash Player-related ones. Last but not least, get a reliable antivirus tool to protect you from possible adware attacks.
Ad Network Performance removal instructions
We believe that you have landed on this page because you wanted to find out how to remove Ad Network Performance virus from your computer. Our security experts suggest that you choose from two options: the automatical way and the manual technique. The first method includes downloading and installing reliable antimalware software that will properly take care of the PUP and ensure that it is gone within a few minutes of time.
The second option includes step-by-step Ad Network Performance virus removal from your computer system and web browsers such as Google Chrome, Mozilla Firefox, Internet Explorer, Microsoft Edge, and Safari. Note that you have to terminate all of the suspicious components that have been added to those apps, otherwise, the potentially unwanted program might return the next time you turn on your computer system or launch your occupied web browser.
According to LosVirus experts,[5] it is better to employ reliable software for the removal process of adware and Ad Network Performance virus is not an exception. If you think of yourself as a less-experienced user or you have been simply running into a lack of time lately, you should better choose to rely on automatical removal and fix software.
You may remove virus damage with a help of Reimage Reimage Cleaner Intego. SpyHunter 5Combo Cleaner and Malwarebytes are recommended to detect potentially unwanted programs and viruses with all their files and registry entries that are related to them.