2018 Annual Visitor Survey is a scam related to adware that delivers surveys which tries to trick users into believing they won a prize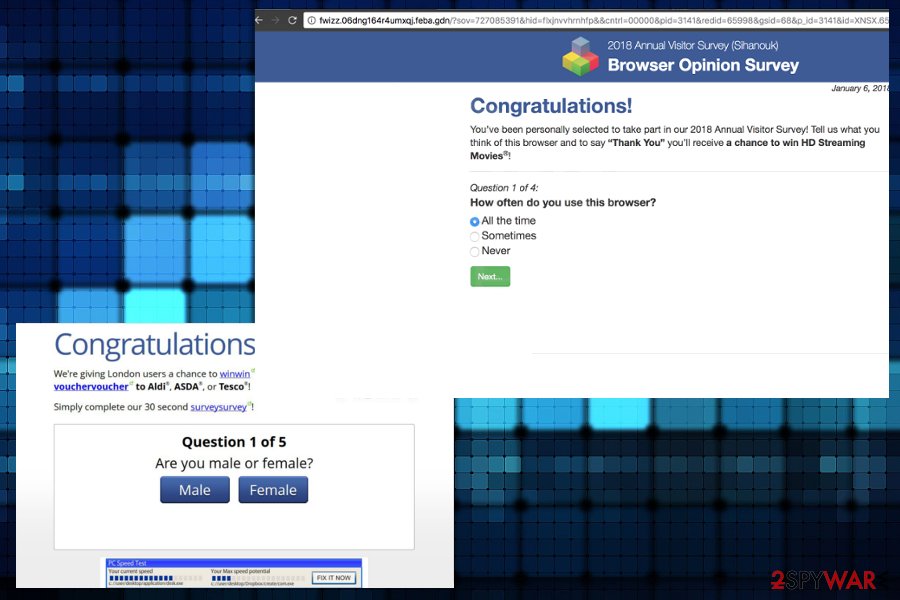 2018 Annual Visitor Survey is the redirect virus that shows scammy messages, fake winner announcements, pop-ups with surveys and causes other adware-type program symptoms. Constant pop-ups and redirects indicate that you have a potentially unwanted program installed on the machine that is affecting the performance of your device significantly when you don't even know. Adware gets bundled with freeware and you download the program off of the internet during the installations that don't adequately disclose these additional applications. Unfortunately, when you notice phony messages, pop-ups, and redirects, the PUP is already running in the background.
You should note that 2018 Annual Visitor Survey is a scam that is identical to the 2017 Annual Visitor Survey so it is possible that a new version comes out each year to target people all over the world and obtain their information or generate views and page visits. The pay-per-click revenue scheme is typical for ad-supported sites and general PUP infections.[1] This fake pop-up tries to mislead unsuspecting users into thinking that, after completing a quick survey of 4 or more questions they can win a prize. Victims of this hoax are promised to get an expensive gift at the end of the poll in exchange for their participation.
Name
2018 Annual Visitor Survey
Type
Scam
Caused by
Adware/ Potentially unwanted program
Symptoms
Continuous alerts on Chrome, Firefox, Safari or other web browsers show up out of nowhere causing additional redirects and pop-ups with suspicious content. In addition to the surveys, commercial content fills up the screen keeping the user from accessing wanted pages and extremely frustrated
Main danger
When the user is redirected to an advertising site or fills out the survey with personal or sensitive information all that data can be obtained by third-party companies or even malicious actors
Elimination
You should remove 2018 Annual Visitor Survey by running a full system scan with anti-malware tool so anything placed in hidden places can be found and deleted
System cleaning tip
We recommend taking care of possible damage and altered files with system repair tools or cleaning utilities like

Reimage

Reimage Cleaner

that may fix the virus damage and help improve the general performance of your device
To involve people into this fraud, 2018 Annual Visitor Survey virus offers[2] an iPad, iPhone or Samsung Galaxy. Anything valuable and popular ensures more interaction and users' involvement. However, the promised "prize" is bogus. After completing the questionnaire, you are shown various advertisements urging you to buy offered products. Despite the promises, you will never get a free gift. Remember that if the deal sounds too good to be true, it most likely is.
Although these fake 2018 Annual Visitor Survey messages differ from OS to OS and per each individual user, the following message is generally identical to those that users encounter continuously each year:
2018 Annual Visitor Survey

You've been personally selected to take part in our 2018 Annual Visitor Survey! Tell us what you think of Mozilla Firefox and to say "Thank You" you'll receive a chance to get an gift cards, coupons and other amazing deals!
question 1 of 4
How often do you use Mozilla Firefox?
All the time
Sometimes
Never
Alternatively, you might be prompted to enter some personal details, such as e-mail, phone number or similar as a requirement to obtain the winnings. This information is used to send you spam e-mails or involve you in constant advertising of unwanted products/services. 2018 Annual Visitor Survey is related to ad-supported sites, so this is obvious.
Additionally, you might be asked to buy some bogus software that you definitely do not need. Promotional pop-ups, banners, and redirects may be already altered to fit your online browsing preferences from the collected information. Therefore, we advise you to remove 2018 Annual Visitor Survey from Chrome, Firefox or any other web browser immediately to avoid further privacy issues.
What should you remove? The reason you are prompted continuously to complete fake surveys is caused by an adware program that might have invaded your machine without your approval. It can attack any browser, including Google Chrome, Internet Explorer, Mozilla Firefox or Safari.
The name of the survey is typically associated with the browser name, such as "Chrome 2018 Annual Visitor Survey," "Safari Annual Visitor Survey," "Firefox visitor survey," etc. This is done to emphasize the legitimacy of the survey. However, it is merely a scam, and these crooks should never be trusted.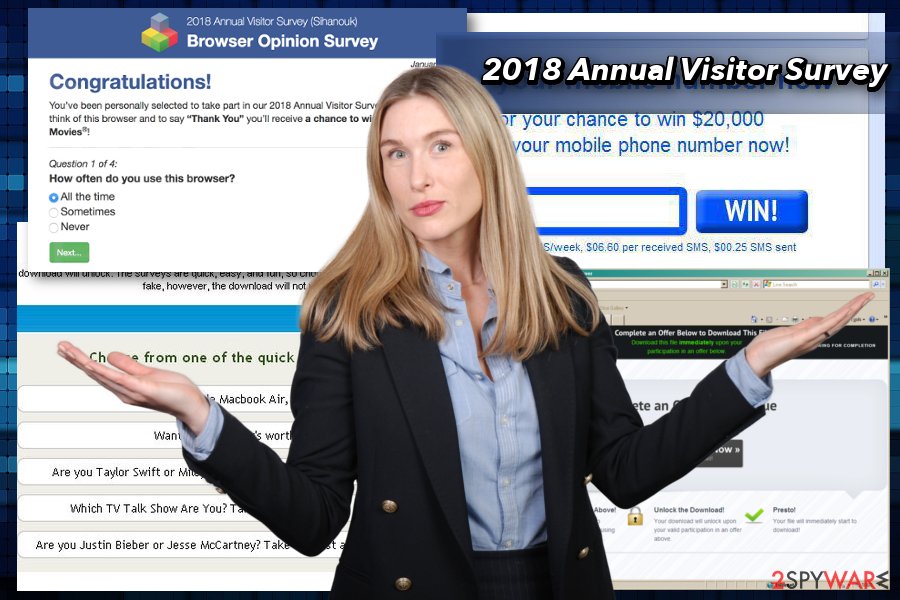 2018 Annual Visitor Survey popup is bogus. Its aim is to swindle users' personal information
2018 Annual Visitor Survey adware might cause additional symptoms on your PC
As soon as adware, which is responsible for showing fake ads on your browser, is installed, it starts causing these unwanted activities that typically bother PC users:
Redirects to dubious websites (unfortunately, these redirects can lead you to malware-infested websites which can cause viruses on your computer);
Installation of additional malware (typically, browser helper objects[3] and similar components are spread in a bundle with adware. They might be installed without your permission);
System slowdowns and crashes. (Because of ad-supported software, your browser takes a long time to load websites).
Ultimately, the adware on your PC will multiply quickly and make your browsing experience almost impossible to perform. Without a doubt, 2018 Annual Visitor Survey removal is your only option if you want to keep your machine at its best state, so use anti-malware tools for the job. Reimage Reimage Cleaner might also find the unwanted or damaged files and fix the damage without interfering with crucial parts of the OS, so double-check after virus termination using AV tools to improve the performance significantly.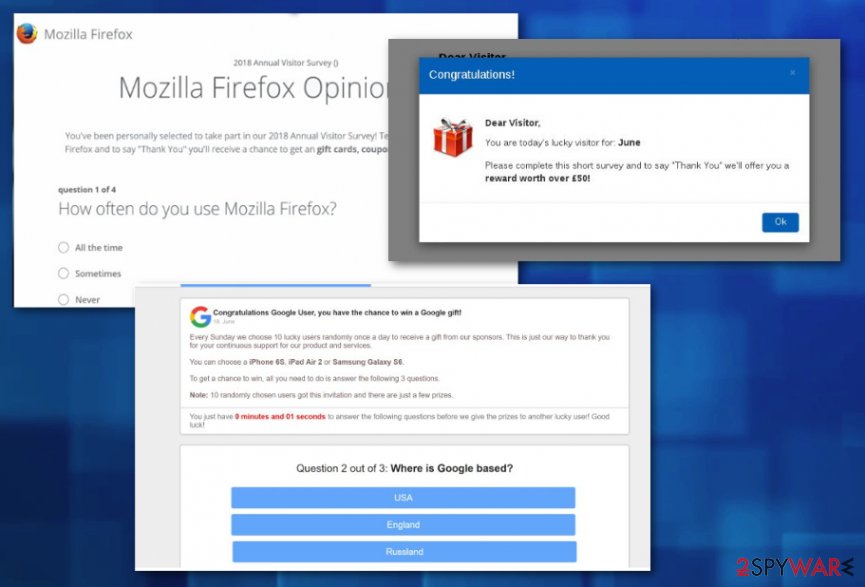 2018 Annual Visitor Survey is the adware-related scam that tricks people into revealing their sensitive data.
Adware relies on questionable distribution methods
Inexperienced computer users often do not understand the concept of adware distribution. They think that malicious programs commonly enter computers without any action taken by the user. However, in most cases, the user is the one that triggers the infection even though the interaction required is only a click on the deceptive site or shady advertisement.
The most prominent adware distribution method is freeware and PUP bundling. This deceptive marketing technique is prevalent among free software developers, especially. They rely on inexperienced and inattentive users to use the Default/Recommended installation mode.
However, hidden components can be declined in Advanced/Custom installation settings. Therefore, we can assure you that the Default or Quick method is never the best way to install the software, especially when you go for a free download site or torrent service. Additionally, make sure you download software updates from legitimate sources only, as fake updates are popular amongst crooks.
Delete 2018 Annual Visitor Survey PUP for from your machine to end all the redirects
To stop undesired program symptoms and behavior of the adware, you should remove 2018 Annual Visitor Survey from your machine. The program you need to find is not that visible as you may think. Luckily, the deletion of adware should not be a problem, as long as it is taken care of early and with trustworthy tools.
To get rid of all the 2018 Annual Visitor Survey virus symptoms manually, follow our guide below this article. There are step-by-step instructions showing how to clean each individual browser. However, please make sure you follow each step with caution as the incorrect procedure will fail to eliminate the virus.
If you lack computer knowledge, we do not advise proceeding with manual 2018 Annual Visitor Survey removal since you can damage additional parts and interfere with the system. You should install professional security software on your computer instead, as experts[4] always recommend.
You may remove virus damage with a help of Reimage Reimage Cleaner . SpyHunter 5Combo Cleaner and Malwarebytes are recommended to detect potentially unwanted programs and viruses with all their files and registry entries that are related to them.